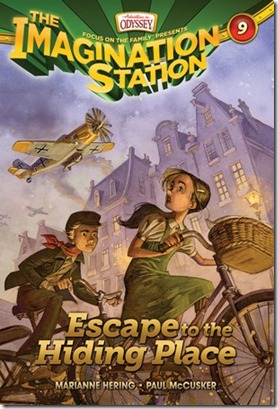 World War II has come to Holland. Patrick and Beth find themselves working with the Dutch Resistance to smuggle a Jewish baby back to her mother who is hiding in the home of Corrie Ten Boom in Haarlem, Holland.
They take the baby by bicycle into the town trying to beat curfew. Avoiding the attention of German Nazi soldiers is proven harder the closer they get to the hiding place. The soldiers are everywhere and keeping the baby hidden and quiet is not an easy task.
Patrick and Beth see the sacrifice and bravery of those who are willing to lay down their own lives to help the Jewish people.
This is another wonderful book by the creators of Adventures in Odyssey. You will learn some history in these action packed stories.
Tyndale House Publishers has provided me with a complimentary copy of this book. In no way was I asked to give a positive review. The opinions I have expressed are my own.