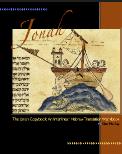 This week we are working on

T

he Jonah Copybook from Alef Press. The workbook is the complete book of Jonah written in Hebrew. Underneath the Hebrew you have a blank space so you can write the Hebrew yourself. Then you have the translation in English. The story is set up in the correct Hebrew way, meaning that you read and write from left to right. The back of the book has the Hebrew letters and vowel points with the pronunciation.
If your children need more practice Kim McKay also has the book of Malachi. Which looks like it is in the same format.
I love this workbook. Being able to read the Bible in Biblical Hebrew and write it for yourself is great practice while you are learning Hebrew. I used it myself to practice my Hebrew. I like that the translation is right underneath it. I found I had to cover up the English so I wouldn't recognize the word and just say it without reading it. It was too tempting for me not to do it. I know quite a bit of vocabulary but reading is where I need practice.
This workbook I feel is defiantly for older kids. Not that you couldn't get creative and adapt it to fit the needs of your children. I feel that younger students would have a harder time writing in the provided space. That doesn't mean that they couldn't use a notebook and write it out. Both of my children write large so the space would be very difficult. It is enough of room for those who can print at a smaller scale. Personally I would love to see it just a tad bigger. That is just my own preference as I tend to print larger myself.
With my daughter and her arthritis I wasn't going to require that she write. I used it as a reader for the kids. For the most part she did well. There are some vowels that she is still learning. It was a good way for me to measure where I needed to focus on her Hebrew.
Little Man I had him pick out a portion of the scripture verse and write it in a notebook. This was challenging for him. I also used this as a way for me to see where he is at. I feel that I can now see where he needs more practice at in Hebrew.
For the most part I think this can be adapted to younger ages if your children are familiar with Hebrew.
Disclaimer: This curriculum is attended for

ages 9 and up, the author really intending them for Jr. high and high school. A family that uses Hebrew already may be able to use them very well with younger kids, but they are not aimed at most elementary students.
Please keep in mind that my children already know the basics and are ready for reading Biblical Hebrew. They need lots of practice still. Especially Bug who needs extra work in some areas. Little Man has started putting together words with Hebrew with and without out the vowels. Both of my children already know lots of vocabulary due to us hearing it in our Synagogue and from use teaching them those words.

Disclaimer: I was provided a copy of this book from Alef Press for free in order to write this review. All thoughts and opinions are mine and were not subject to editing from the publisher.