My family has been reviewing
Amazing Science Volume 1
DVD for
ScienceandMath.com
My kids really enjoy science and they love it when they can explore with experiments. As much as I love science I often find it hard to do the experiments when I have so many other subjects that need to be completed. At times it's easier to let a book teach science. The reality is that finding the items that you need for the experiment, set up, and cleaning up afterwards makes me cringe. I have a hard enough time keeping up with my hectic schedule.
Amazing Science Volume 1 is a two disc DVD that has 23 experiments. You can
purchase aphysical DVD for $17.95 or you can get and instant download it for $14.99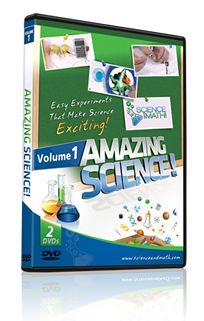 Jason Gibson is the scientist who presents the experiments. All of these experiments use common household items and you are taken step by step through every experiment.
Amazing ScienceVolume 1
is intended for grades 1-3. Mr. Gibson does a fantastic job explaining the process of each experiment and the science behind how it works at their level so they can comprehend it.

The length of each experiment varies but most are about 15-25 minutes.

Here are the experiments in the 2 disc DVD.
Color Changing Milk

Egg in a Bottle

Exploring Air Pressure

Build a Lemon Battery

Inverted Cup of Water

Candle Suction Power

Amazing Magnetic Force

Lift an Ice Cube with String

Unburnable Money

Matchstick Speedboat

Cloud in a Bottle

Reversing an Image with Water
Floating Eggs

Keep Paper Dry Underwater

Dry Ice Bubbles

Balloon in a Candle Flame

Ocean in a Bottle

Build a Motor with Lights

Simple Lava Lamp

Invisible Ink

Density Tower

Soda Can Fizz

Build a Motor #2
How did my family use Amazing Science Volume 1?
When my kids seen the DVD they wanted to watch it immediately. They ran downstairs and put in the DVD without my prompting!
The kids watched
AmazingScience Volume 1
with me during school time also with just as much excitement the second time. We went in order of the video and watched four or more sessions of the experiments a week. Then I let the kids choose which experiment they wanted to do towards the end of the week. The day of the experiment we watched the experiment again before we did it so the lesson would be fresh in our memory. If we didn't have time to do an experiment that week the kids still enjoyed just watching
Amazing Science Volume 1.
The first experiment we did was the Color Changing Milk. The kids loved this experiment and couldn't wait for Daddy to get home to show him.
We also did Exploring Air Pressure, Inverted Cup of Water, Lift an Ice Cube with String, Cloud in the Bottle, Simple Lava Lamp, and Invisible Ink.
All the experiments worked for us except the Cloud in the Bottle. We couldn't get a tight enough seal on our bottle to keep the air pressure in it long enough. We tried many different things but, it just didn't work. It was not an issue from Amazing Science more of an issue from the scientist performing the task. The kids still had a lot of fun even though our experiment didn't work.
My final thoughts on Amazing Science Volume 1
We love this amazing science video. I can't think of one thing that we didn't like about
AmazingScience Volume 1
. It was very motivating for this mamma to do the experiment and it made my kids so excited. All the items are house hold items. Or they are easy and inexpensive items to add to your grocery list. Really it's that simple!
I love that all the experiments are presented clearly in step-by-step fashion. Even those who feel intimidated with science can do this. I like that each experiment, you will learn the "why" behind each and every experiment. You will learn basic scientific principles of how it works at the kid's level.
If you're not into doing experiments you can learn and enjoy it by just watching. I think you will be motivated to do some of them.
This is a good way to break up the mundane of your science curriculum. Add a little surprise in you kids life. You can use this as a boredom buster during summer break when it to hot outside to keep those minds learning. I also think this could work as a weekly Co-op for a science course for younger kids. Amazing Science Volume 1 is truly amazing!