One of my children's favorite subjects is science. The kids just can't get enough of science in our home. The kids got real excited when I told them we are going to be reviewing New 2nd Series Go Science DVDs from Library and Educational Services. Not, that they knew a thing about the Go Science DVDs. All they heard are the words "Science" and "DVDs". That's all my science loving kids needed to hear to get excited and checking the mailbox until the package showed up.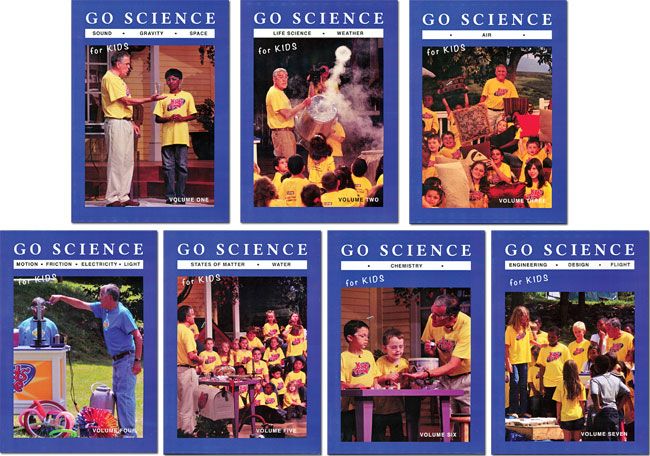 Go Science DVDs are a Creation Based Worldview Science DVDs. The science instructor in this series is Mr. Roy who is an energetic teacher who has his audience help him with the experiments. He explains some of the experiments in a simple manner and afterwards explains some of the science behind most of the science demonstrations. Each segment varies in time but average is around 3 to 6 minutes. Each DVD is around an hour of science demonstrations.
I love how Mr. Roy closes each experiment with this phrase, "Every time we learn something about SCIENCE, we learn something about our CREATOR GOD!" My kids are quoting Mr. Roy when we do science! I love it!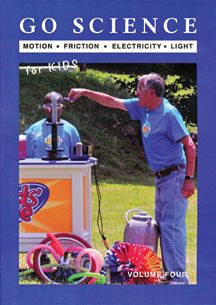 *Food Coloring and Bubbles
My 8 and 11 year old enjoyed watching Go Science DVDs Volume 4: Motion, Friction, Electricity, Light runs a total of 55 minutes.
The kids loved all the cool science experiments in each segment. They liked that Mr. Roy uses other kids their age to come up and assist in the science demonstrations. Volume 4 all of the experiments can be done at home easily. Except one experiment that would not be applicable for a home experiment.
The kids liked the Floating Rice experiment which was pretty basic and had a lot of wow factor to it. They were pretty impressed how you can pick up a bottle with rice packed in it using a bamboo skewer. Another favorite was the Nail Magnet demonstration. All of the experiments fascinated my kids. As a mom I like how they are educational and that at the end of each experiment that Mr. Roy relates some kind of a spiritual application to each experiment whether it dealt with the heart, walk with the Lord, or that we need to share Jesus with the world. The kids watched Volume 4 off and on within a weeks' time.
*Toilet Paper on a Paint Roller
Go Science DVDs Volume 7: Engineering, Design, Flight has a running time of 56 minutes. My kids watched Volume 7 in one setting they were fascinated with the science demonstration in this series. This was Little Man's favorite one as it dealt with rockets and engineering.

Most of the experiments can be done at home. A few of the science demonstrations would be difficult to do at home. It is still fun watching the experiments be performed. I got a feeling that we will be making a few vinegar rockets and film canister rockets this summer.
The kids loved the nail balance experiment the best. I think if I had to choose just one experiment from this volume I would have to agree with the kids as I was pretty amazed with the nail balance demonstration.You will just have to watch it for yourself to see what the "nail balance experiment" is. I think you and your kids will be pretty impressed.
I love that it is a Christian based science program. The experiments are fun and have a lot of wow factor to them. Seeing kids help with the science demonstrations was very appealing to my children. I love that Mr. Roy relates everything back to God's creation. This series is a wonderful way to add some wow to your current science curriculum.
Some things I didn't like.
My kids wanted to know if these DVDs where a program that I watched as a kid. The set up reminded me of some shows I watched as a child. The experiments are applicable for older students. I think the presentation is more appealing for younger students.

You could easily go younger in age than what they recommend. As far as older kids I think it doesn't provide much information about all the experiments and I think the age recommendation may be high. My kids had more questions than answers after each segment.
My kids did enjoy the Go Science DVDs a lot.
I was disappointed that you have to register to even look around
Library and Educational Services website. If it wasn't for this review having to register with a website to look around would keep me from investigating more. I do have to say that I am really impressed with all the products and prices LES has. I would recommend you register an account with them. They have some amazing products at a very reasonable price. L.E.S has been around for 35 years as a wholesale company that sales to schools, churches, libraries, and even homeschoolers. Not to many companies pass along the same savings to homeschoolers that they offer to other organizations.
Overall this series would be great to add on to your current science curriculum or just for fun if you have some science loving kids. My kids and I did enjoy these DVDs and I loved that the series related everything back to God and His creation. Stop by Library and Educational Services as I think you will be impressed with their prices and selection.
Here are the social media links for Library and Educational Services