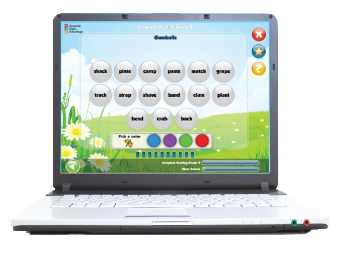 Once you log on as a parent you will see several options to choose from on the main menu screen.

The main menu screen is broken down by grades and subjects. You will then proceed by choosing a topic. At this point is where the student logs in.
Your child will then select which activity they are going to do. After you complete an activity you earn stars. Three stars let you know that that activity is completed.
You also get a brief dancing dog. Which for my daughter with special needs this was a highlight. For those kids who love seeing their successes you can see your stars activity and print out a certificate of achievement.
You can track you child's progress with grades, date and time spent on the activities, how many attempts it took them to achieve the task, and so much more.
How did I use Essential Skills Advantage in my homeschool?
I used this with my 8 year old son and my 11 year old daughter with special needs. They both did it several times a week. They averaged around 20 minutes each time.
My son jumped around and explored every area that he could. I decided to just let him and see how he did working at his own pace and choosing his own activities. He worked on reading comprehension, spelling, grammar, and some with spelling stumpers.
What did my son think of Essential Skills Advantage? He said that, "he thought it was a lot of fun and that it wasn't as childish as some of the other programs we have done". I have to agree with him that it isn't too childish. I also thought that it's enough to hold a child's interest and is not boring for them.
My 11 year old with special needs became very OCD with this program and wouldn't venture out of an area until it was completed. She stayed in the Complete Reading for Grade 2 section only. There was still plenty for her to do. She worked on phonemic awareness and working on the short vowels, sight words, and some other activities. She was learning and that is all that matters to me.
My daughter liked the program a lot. It wasn't hard for her to navigate once she was in where she wanted to be. It wasn't too much activity with Essential Skills Advantage going on for her. Sometimes programs are very distracting for her. It does have a constant chirping-bug noise in the background. I wasn't sure if it would overwhelm her and if I would have to turn off the volume. She did fine with the background noise. She usually did more than I required her to do and that made me happy.
I had a hard time logging in my children the first time and I had to call customer service. They were very helpful and friendly.
The one thing that drove me crazy was that every time you wanted to switch to a different activity you would have to log back in again. I don't get why that was necessary and it was a big pet peeve on my end. Other than that I don't have any other issues as I was very pleased with Essential Skills Advantage as it is a well done online learning for kids that helps children learn to read.
Essential Skills Advantage is now offering a FREE version. It will not have all the elements that the Premium Plan has.
They are offering a coupon code for the Premium Plan, use coupon code TOS50 to give subscribers 50% off if you sign up until October 1 st. The discount is applicable as long as you remain a member. That makes it $4.99 month, per student.

Check out what other TOS Crew members are saying about Essential Skills Advantage.