The last few weeks my family has been listening to, Under Drake's Flag by G.A. Henty from Heirloom Audio Productions.
We received the physical audio CD that comes with a study guide and the prayer inside. With it you can download a special bonus 30 page study guide. The cost of this two CD audio set is $29.95. We also received the longer study guide which is a PDF download. You can also download Under Drake's Flag for $20.00. This audio drama is for ages 6-adult.
Under Drake's Flag runs 2 hours of action packed adventure. This audio drama is recorded in London with a full cast of actors and a state of the art sound.
Are you are familiar with author G.A. Henty and his historical fiction books? If you're not then you need to introduce yourself to some amazing books. G.A. Henty writes about Godly character, Christian values, and about those who stand up for their faith in God no matter what trials you are going through. Of course, we can't overlook the historical fiction that teaches you history, biography, and geography.
The PDF 30 page study guide is well thought out and has some comprehension questions. It is broken down in three sections:
Listening Well
: this section lets you see that your child understands the story.
Thinking Well
: in this section you are asking thought provoking questions that make your child think and put their thought in their own words. There is also an opportunity to make this into a full unit study with other activities.
Defining Words
: those tough new vocabulary words and finding out the meaning.
Also included are some Bible scriptures to investigate deeper into God's Word.
The study guide included in the CD was a bit difficult for me to read with its print size. Just like the 30 page study guide it also has scripture references.
About the story:
Under Drake's Flag takes place in the 1500s with Captain Sir Francis Drake a historical figure that wants to circumnavigate the globe searching for a North West passage on the high seas. This is during the conflict of England and Spain and during the Spanish Inquisition.
You will meet two young boys with whom you see grow up to become extraordinary young men of Godly character. Ned Hawkshaw and Gerald. Ned happens to be at the right place at the right time when he rescues someone from drowning. He catches the attention of Captain Sir Francis Drake who offers Ned an opportunity to set off sail with him and his crew mates on Captain Drake's ship,"The Golden Hinde".
The boys have more adventures at sea than they could of ever imagined. They get shipwrecked, shark attacks, intense battles at sea and on land, and the evil Spanish Inquisitions.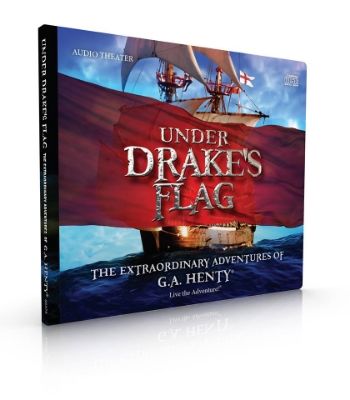 How did I use this in my homeschool?
We listened to this several times while in the van with both of my children.
My daughter is 11 years old and has some learning disabilities. With all the stimulation going on in the story she had problems keeping up with the fast past of the story. My 8 year old son took it upon himself to make sure she was up to speed. She did indeed enjoy the story it just took her a bit longer to catch up with all the action.
My son was enthralled in this story so much that he was begging me to jump in the van to go somewhere so we could finish the story. He just couldn't wait to see what was going to happen next.
We didn't use the study guide due to the fact that it summer and we were in the van. However, I will use it at some point as I am sure we will be listening to this great classic over and over.
Amazing, intriguing, heart stopping, realistic action packed adventure, compelling, spellbound, and an amazing audio drama jammed packed with heart felt faith of two young men putting their faith and love of God in action and learning how to be true followers of God. There are just not enough words for me to truly explain how good this was as we were all in awe of this.
I was amazed at the quality of this audio drama. It was done professionally down to the smallest detail. The sound effects, the musical scores, and the actors just out did them selfs with this production. It was so realistic that my family felt like we were there in the adventure.

See what other Crew Members are saying about Under Drake's Flag: