We have been studying God's creation a lot these last few months especially creation. Bug just finished her Bat Mitzvah and her portion was in book of Genesis. She focused on day one and day six for her presentation. After learning her portion in Hebrew she was excited to have something else to focus on with God's creation other than reading it in Hebrew. My last review for the year is from Purposeful Design. I knew Bug would be excited with Purposeful Design:Understanding the Creation in which I received a physical hardback book along with a digital Young Explorer's Club workbook that goes along with the book.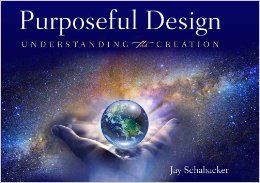 In the beginning God created the heavens and the earth. Now the earth was formless and empty, darkness was over the surface of the deep, and the Spirit of God was hovering over the waters. And God said, "Let there be light," and there was light. God saw that the light was good, and He separated the light from the darkness. God called the light "day" and the darkness "night". And there was evening, and there was morning the first Day. Genesis 1:1-5
The author Jay Schabacker has done an amazing job with this gorgeous full color breathtaking book with some pretty impressive photographs. The pictures are absolutely amazing-just like our Savior Himself.
There are seven chapters and 90 pages. Each chapter covers a particular day in creation.

Chapter 1 – The First Day: Creation of the Heavens and the Earth, the Foundation of it All
Chapter 2 – The Second Day: Creation of the Atmosphere and Water
Chapter 3 – The Third Day: Creation of the Dry Land and Vegetation
Chapter 4 – The Fourth Day: Creation of the Sun, Moon, and Stars
Chapter 5 - The Fifth Day: Creation of the Birds and Fish
Chapter 6 - Creation Day Six: Creation of Land Creatures and Humans
Chapter 7 – The Seventh Day
Every chapter begins with the scripture verse for each day of creation. From there it goes on to explain a bit more about pretty amazing things about God's creation.
For example on-Day 6 with the creation of land creatures and man discusses camels, cattle, and the uniqueness of man giving you some information that proves that the Creator loves us and is in control of all of His creation. Did you know that a camel has a stomach that can carry 30 gallons of water? We had some pretty interesting topics on the camel in which we had to investigate a bit more into the camel. My son was amazed that the camel didn't need to go to the bathroom all the time! Do I have the only boy who would have to ask a question like that? As you can see we had a lot of interesting discussions throughout this book.
Not only is there scriptures sprinkled within the pages of this book but, it's if full of science topics. It gives you enough science to not bore or lose a young child with too much information. At the same time it gives you some interesting topics to give you a jumping board to investigate and make this in a pretty serious unit study.
YoungExplorer's Club workbook is a PDF file has seven sections that correspond with each chapter. Each section in this workbook has questions for each chapter, additional scripture verses, and some hands on activities like drawing. You can also download a teacher's answer key, and a certificate of completion for each chapter. This workbook can be downloaded free of charge.
Purposeful Design: Understanding the Creation won the 2013 Illumination Book Awards and in 2014 it was awarded a bronze medal in the Coffee Table category from the Catholic Press Association.
My science loving kids loved Purposeful Design: Understanding the Creation. They learned so much and begged me to read it every day. I had to stop after every chapter with my kids with much moaning and groaning because they didn't want me to stop. They wanted me to read the whole book in one sitting! After every chapter we worked orally on the assigned chapter in the Young Explorer's Club workbook. We investigated some topics with information online and in some books that we have pertaining to topics within
Purposeful Design: Understanding the Creation.
Focuses on creation and young earth
Easy to read and understand for all ages
Can be used in creating a unit study on creation
It's a vivid full color hardback book
Free shipping on your purchase of the book
The workbook is more for the older child (3 rd grade and up) as it has a lot of writing activities. It asks some tough questions in the workbook that I think would need some help answering. I had to look at the answer key more than once. Don't worry as you can always do it oral for the younger kids just have the answer key close by.
This is a con for my family as Messianic Believers in Jesus as we eat Biblically clean foods and don't eat certain foods that Purposeful Design: Understanding the Creation states, "the camel is food for man". We don't consider things that are unclean food. I had to clarify with my kids as they recognized a camel as not being food suitable for eating.
This is a wonderful book that I highly recommend to both homeschoolers and Believers alike. This would make a wonderful addition to anyone's home library or coffee table.
Social Media


Blog: www.Jayschabacker.blogspot.com

Facebook: https://www.facebook.com/JaySchabackerAuthor

Twitter: www.Twitter.com/Jayschabacker (@Jayschabacker)

LinkedIn: Jayschab