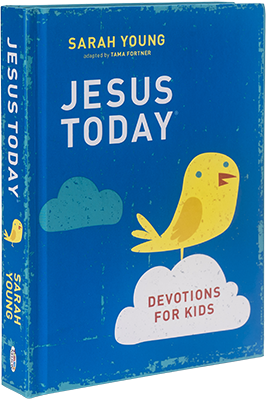 Jesus is the Friend who is always with you. Jesus Today: Devotions for Kids will pour this powerful truth into your children's hearts as they learn that He knows everything about them and loves them more than they can imagine. Each devotion is based on Scripture and is written as though Jesus is speaking directly to you, assuring that He is in control, that He is good, and that an amazing future awaits all who put their hope in Him. Adapted from the ECPA 2013 Christian Book of the Year-winner Jesus Today, this devotional has the same themes as the adult version, as well as written-out scriptures. It is a great choice for families to read and discuss during devotional time together.

About Sarah Young:

Sarah Young's devotional writings are personal reflections from her daily quiet time of Bible reading, praying and writing in prayer journals. With sales of more than 14 million books worldwide, Jesus Calling has appeared on all major bestseller lists. Sarah's writings include Jesus Calling, Jesus Today, Jesus Lives, Dear Jesus, Jesus Calling for Little Ones, Jesus Calling Bible Storybook, Jesus Calling: 365 Devotions for Kids, and Peace in His Presence -- each encouraging readers in their journey toward intimacy with Christ.
Sarah and her husband were missionaries in Japan and Australia for many years. They currently live in the United States.
This is a really impressive devotion for kids. I haven't read any of Sarah Young's previous titles. She has quite a few for both adults and kids.
Jesus Today has 150 devotions covered in 368 pages. Each of the devotions has several scriptures that are included for that particular day. It's a hardcover book with a ribbon bookmark. It's also a nice compact size to slip into your backpack. It's recommended for ages 6-10.
The language is suitable for the intended age. The scriptures are from the International Children's Bible version. All the scriptures are indexed in the back of the book.
I like that it is not dated for each day of the year. It just drives me crazy if a day is missed and I get confused with where I ended even if I mark it.
I started reading this with my kids every morning after our Bible time before we started school to them. Both my kids have enjoyed the devotions. They are practical and have opened up some good conversations with my kids.
This would make a nice addition to add to your kids Bible time. It would also be a nice gift.
I have really enjoyed this and will continue reading this with my kids in our daily routine.
This book has been provided to me by Flybye Promotions free of charge and in no way was I asked to give a positive review. The opinions I have expressed are my own.
I am disclosing this in accordance with the Federal Trade Commission's 16 CFR, Part 255. All links were current when posted