My family loves science and we get pretty excited with it. My kids have been showing a lot more interest in Astronomy and wanting to know more about the constellations. When the Crew had a chance to review products from Memoria Press I didn't have any problem deciding what we wanted to use as I knew my kids would want to do Book of Astronomy Set.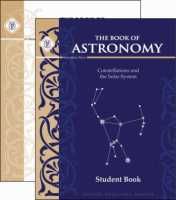 For the purpose of this review I received a physical copy of the Student Book and the Teacher Guide. This is intended for 3rd grade and up. D'Aulaires' Greek Myths is a great companion resource to use with this program. The Student Book is consumable and you will need one for each child.
Book of Astronomy Set is broken down in four units:
Unit 1-Starts out explaining the constellations and the motions of the earth and how it affects what we see in the sky. It names the 15 brightest stars and facts about each one. After the first initial introduction of astronomy this unit focuses on the Summer-Fall sky and the zodiac and constellations in that season. You will learn about the summer triangle, Lyra, Aquila, Cygnus, Hercules, Scorpio, Sagittarius, Capricornus, and Aquarius.
Unit 2- Will guide you through the winter constellations and zodiac. Navigating the Orion, and Canis Major, Canis Minor, Auriga, Lepus, Monoceros, Cetus, Pisces, Aries, Taurus, Gemini, and Orion as a Signpost.
Unit 3-Takes you into the spring sky constellation and zodiac. You will learn about the Ursa Major, Big Dipper, Ursa Minor, Pole Star, Ophiuchus, Serpens, Bootes, Draco, Virgo, Libra, Cancer, Leo, Finding Leo, and Finding Bootes and Virgo.
Unit 4-You will get to explore the Solar System. You will learn about the Sun, Mercury, Venus, Earth, Mars, Jupiter, Saturn, Uranus, Neptune, Dwarf Planets, Moon, Galilean Moons, Moons of Saturn, and Comets.
This is a full year curriculum of Science. Lots of fill in the blank questions

.

E

ach unit has an exercise at the end of it. It's basically having you review everything you have learned throughout the unit. My son enjoyed drawing and labeling the constellations. All Memoria Press is a classical education with a

Christian Worldview.
D'Aulaires' Greek Myths is recommended but, I couldn't find my co

py.

I must have loaned it out. We substituted with another book that I found in the classroom. I think this could easily be used without the book. It just depends on how much you want to go into the Greek myths.
Student book is a softbound book with 164 pages. There is a lot of room to write down information on the questions and in the charts. There is reading, fill in the blank questions, labeling stars and connecting the stars to make them into constellations. In the Appendix you have a place to record information into a chart about each planet to refer to in the future. Also a zodiac chart, definitions of the constellations, solar system, and a pronunciation guide.
Teachers Guide is also a softbound book with 228 pages. It has all the same information that is in the Student Book. You could read from the Teachers Guide while your student follows along. All the answers are provided for you. The only differences in the Appendix are the Test and overheads for the curriculum.
How did I use this in my homeschool?
My 10 year old son was the main user of this program. He was able to work independently with very little help from me. There was a few time he asked if I would read out loud to him. I did find that the Teachers Guide was a must as we had to refer to it a few times to clarify something we needed help with.
Moving into a small town has been fun being able to see the night sky. This is something we didn't get a great view in the city. My son enjoyed going outside to show his sister some of the constellations that he has learned up to this point.
Little Man wants to do each unit when the season comes around that way he can apply what he has learned into finding them in the night sky. He is really excited working on

Unit 4 with the

planets. It sounds like a good plan and he is excited to do it that way.
Other members of the Crew are reviewing different items form Memoria Press so stop by and see what they are doing.