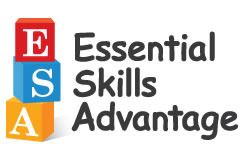 For the last several weeks my daughter has been using the Complete Home Learning Suite from Essential Skills Advantage. We received a one year online subscription to the entire program for one student. This isn't the first time we have used ESA and my daughter was excited to use this amazing online education program again.
ESA is designed for grades K-6

or any older student who needs some remedial work. This program is entirely online and has a lot of options to choose from.

ESA has a whole plethora of subjects to explore.
Reading- Grades K-6: this covers everything from beginning phonics to reading comprehension.
Spelling- Grades 1-6: spelling fun with some spelling stumpers.
Language and Grammar- Grades 3-6: writing fundamentals, creative writing, grammar, and vocabulary.
Math- Grades K-6: a complete math program from K-3 along with math operations, and number concepts.
Science- Grades K-3: Earth, space, physical, and life science.
Geography-Grades 3-5: Map and globe skills, World, American, and Canadian geography.
ESA is extremely easy to log into and to navigate around. Bug had no problems choosing a subject and a level to work at. She could easily switch back and forth to other subjects. You can go at your own pace as they don't have any way to assign a schedule.

The main menu screen is broken down by grades and subjects.

Your student gets immediate feedback.
How did I use this in my Homeschool?
I used this with my daughter Bug is 13 and has Autism and other learning disabilities. She has been working at a 3rd grade level. She was pretty adamant with wanting to start working with Science. With the Science she loved the hands on activities and was excited each time one came up.
Right now she is working her way through geography and plans on working on math when she is done. For some reason she was pretty stuck on doing just one subject at a time. For the most part she has been doing ESA four times a week. The only drawback for me is that I didn't see and audio option on the subjects that she did. My daughter struggles with reading and some days she needed more help with reading. She wasn't able to do most of her work without me close by as she wasn't able to be independent completely. I would love to see an audio option available on all grades and subjects. (I'm not sure if this is an option on any of the grades or levels) I would like to also have the ability to turn it off or on. My son could do this independently but, he would push an audio button if he could whether he needed it or not.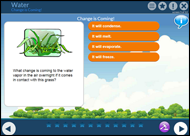 ESA wasn't too busy or it didn't have a background noise on the subjects we did. Sometimes, online programs are very distracting for her.
My daughter usually did a lot more than I required her to do. Which tells me she liked ESA. That makes me a happy mom.
I like that I can easily track her progress by pulling up reports. I thought that the bar graph was easy to read and my daughter also understood the bar graph. This made her very happy seeing her own progress. The green bar shows how much work she has completed. The orange is averaging out the grade.
I also like that it gives her several opportunities to try again unlike, other online programs. This has always frustrated her with other online programs to where she doesn't want to do it. I found that she says the correct answer but, clinks the wrong answer by accident often.
Having a daughter with learning disabilities I like that we are not stuck in one level only as my daughter's ability is all over the place. I don't have to log out to change a level each time. That's extremely convenient for this mom. It covers more than one subject all in one place and she can work at her own pace!
I love that she will being doing ESA over the summer break and keeping those skills up. I would highly recommend ESA.
Don't forget to see what other members of the TOS Crew think about ESA.