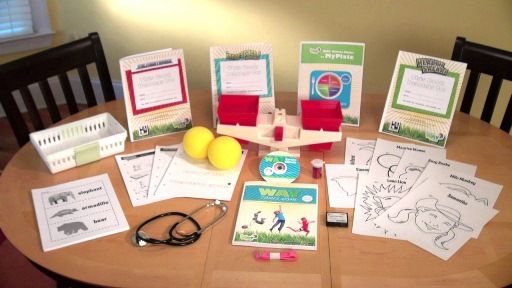 I received a physical kit, my kids where pretty excited when the box showed up at our front door and seen what was inside the box. I also receive access to online content that includes new lessons each month. You do not need to access the online content for this kit to teach it.


The W

AY

Comes Home Kit has all the essentials you need to complete this curriculum:
DVD Lessons, Journals for all three levels which are consumable for one student, Parent Guidebook, Fulcrum Balance Scale, Stethoscope, Bag 250 Transparent Counters, Foam Balls-2, Inkless Finger Print Pad, Glitter, Plastic Eggs, Measuring Tape, Plastic Bins, Flashcards, ChooseMyPlate Book, and 2 Posters. I am just going to cover a few items in detail.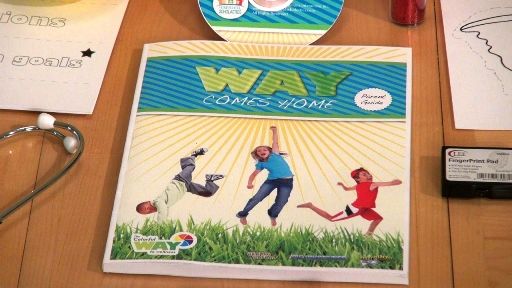 The Parent Guide Book is a paperback book with 147 pages. It breaks down the 5 modules and how to teach each one. Each module teaches a different concept with health and wellness.
The modules are broken down for each age level. Each module is intended for 1 week of lessons. The lessons are concise and extremely easy to follow. I love simple and fun in a curriculum. There a lot of suggestions of adding on other activities for weekends and other suggestions.
There are three Journals in the kit. One is for K-1 st grade, 2 nd- 3 rd grades, and 4 th-5 th grade. Each Journal is appropriate for its intended grade. You can purchase extra Journals separately.
The journaling is

an essential par

t of the program. My kids enjoyed the Journals a lot. I wasn't sure if this would be an activity that my kids would like at first.
The vocabulary cards are broken down by level also. I taught 2 different levels and it was easy doing this curriculum as the Teacher Guide made it flow easily.
The DVDs are fun and engaging. My kids enjoyed them as they are fast paced and entertaining. An average lesson was around 30 minutes or less.
How did I use W

AY

Comes Home Kit in my Home

s

chool?
.
I used this with my 13 year old daughter with special needs and she has a lot of feeding issues and learning issues.

My 10 year old son also participated

enthusiastically

.
The first few days I spent getting myself familiar with the curriculum. There is a good guide in the manual to determine which journal is best for your

kids.
The Teachers Guide was very helpful telling me what supplies I need for each lesson. It guided me step by step with the vocabulary cards and the activities.
Lots of art in the Art Attack portion. My kids really enjoyed being able to be creative.
Despite being a little under the weather with some severe allergies we made nature self portraits, finger print art, and well my kids made food art and got my okay to play with their food.
We st

arted out a

module

with

first watching the DVD lesson. A

fterwards,

we would

work on the different activities throughout the program. Our cat obviously became part of the lesson's-almost daily. She got use to a daily check up from my

daughter

whether she was active or inactive. She even sleeps through her check ups no

w

. Bug figured out how to take a good heart beat with t

he cat before she figured out her brother.
There is so much hands on activities in the curriculum. Including the physical activities they did on the DVD

.
A lot of the time it was Little Man being active as Bug had a hard time with her arthritis doing to much physical acti

vity.
Wow impressive. The cost is extremely reasonable considering how much is included in the kit. Even ordering extra journals will not break your homeschool budget. I love that everything I need to teach the five modules is in the box. So easy!
Don't just take my word for it as many other TOS Crew have reviewed this also. Don't forget to see what they have to say.