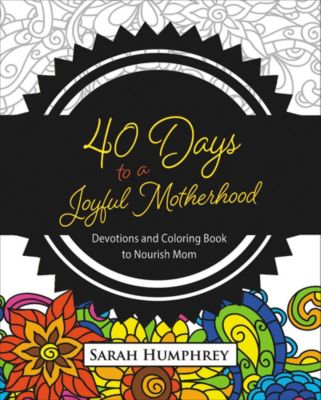 Wouldn't it be marvelous if mothering came with a concrete set of instructions an easy recipe we could follow? Instead, motherhood challenges women to find their faith, their true selves, and their family through daily doses of trial and error. It is a brilliant and healing time of life that is full of joy, pain, and beauty with a small side of crisis (and humor). What mothers do not know, they learn. And through this lifelong process of learning, they nurture and care for the most precious gifts on earth: children.
In a modern society where moms often have a full and busy plate, these 10 minute daily devotions focus on six key topics of motherhood:
* Reconciling with grief, hope and expectations
In addition to the devotions, these beautiful pages are adorned with handmade illustrations to help you refresh from long days or even occasional sleepless nights. So, grab your colors and a little quiet time for yourself while doodling at the kitchen table. You will be grateful you did!
My thoughts:
I don't know about you but, I love all this adult themed coloring books. They are just downright fun. There are so many options of genre out there for every ones taste.
First off likes talk about the book itself. This is a paperback devotional and coloring book for mom's. There are 98 pages. With one page being a full page devotional and the other page being a full page coloring page. The artwork and doodles aren't small but, actually rather large. Actually the details are very simple compared to most adult coloring books I have seen. At first, I wasn't so sure about that. I like they can be colored quickly. Sometimes I choose a page on how much time I have to actually sit down and coloring. I think that the simplicity is actually a positive. The drawings are fun and cute with lots of flowers, hearts, and very whimsical artwork.
The pages are really thin compared to any adult coloring book I have colored. Markers, Sharpies, and paints would bleed through. The other side of the page is the devotional. You could put a heavy paper behind it. Other than that I would recommend staying with coloring pencils or crayons. I can see the writing on the next page without holding it to the light. I was a bit disappointed with the quality of the paper.
There are 40 devotionals. Those are under 6 different themes.
*Reconciling with Grief, Hope, and Expectations
Every devotional begins with a scripture verse, and followed by a devotional. At the end is a prayer that is in a sentence or two. Overall, most of the devotionals are okay. Nothing to crazy but, it's more sounded like a self-help book on many of the days. On page 26 it focuses on "Releasing Grief and Receiving New Life" some quotes" Breathe in Peace so we can exhale Life" or "I breathe. I exhale dust" and it goes on like that. I didn't really get the point. Maybe, Am I supposed to mediate? It was just weird to me. A few other pages like that. There were also so very good and practical devotions. Nothing jumped out at me that was contradictory to God's word.
Not that a self-help books are bad just I wasn't expecting this. Maybe this would be great for new moms. The devotionals just didn't do it for me.
Overall, some good qualities and some that just didn't impress me. Don't just take my word for it. See what others have to say. I may just be an older mom with young kids. I just may look at it different than a new mom may.
I received a free copy of this product from Litfuse Publicity in exchange for my honest review. I was not required to write a positive review nor was I compensated in any other way. All opinions I have expressed are my own or those of my family.
I am disclosing this information accordance with the FTC Regulations
.