I was delighted to have another opportunity to review Kwik Stix from
The Pencil Grip, Inc.
I received the
Kwik Stix 24 pk
. This pack has
6 Metalix
,
6 Neons,

and 12 classic colors. Also included was 3

Pencil Grips. Kwix Stix are for ages 3 and up.
A busy mom's best friend that makes you feel like an amazing mom! Okay, confession here I really don't like the mess of my kids using paint. It just takes so much time gathering the supplies like water, paper, brushes, and protection for clothes. Then the part of cleaning up spills, brushes, and where ever else it tends to end up. More so with my 14 year old daughter with special needs as she makes a terrible mess. It makes me feel guilty telling them, "No, we can't paint today". I really dread it. At the same time it brings me joy watching my kids do crafts. They love painting and making beautiful masterpieces.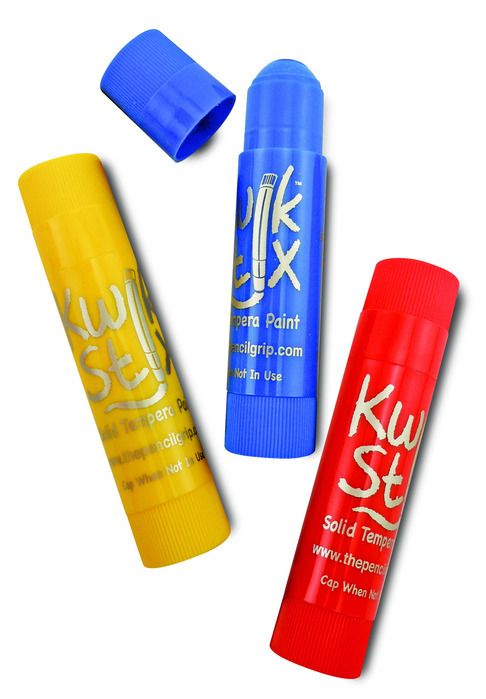 Kwik Stix is solid tempera paint that comes in a plastic tube like a glue stick container. The paint sticks twist up and down in height. They are easy to grasp. The lids snap on in an easy to seal container. It's also a non-toxic paint that dries in 90 seconds. You also don't need water to us Kwik Stix. You can use Kwik Stix on paper, poster board, cardboard, wood, and even on a canvas!
The paint texture is very smooth in the container and on the surface while using them. The colors are very vibrant. No smears or clumps when you are using them. My kids found out that you can blend the colors. All you have to do is take your finger and go over the colors. However, you do have to do the blending immediately.
The
Kwik Stix Neons
have nice vibrant colors. The colors in this set are pink, yellow, purple, green, blue, and orange.
Kwik Stix Metalix
are bold colors with a hint of a shimmer within the colors. The colors are gold, dark green, dark blue, silver, deep purple, and a dark pink color.
Kwik Stix Classic Colors are also a nice and vibrant in color with all your primary colors.
The Pencil Grip
The Pencil Grip
is easy to grasp for children. This is a fabulous way to teach kids how to hold a pencil correctly. The texture of the grip is soft. It uses the tripod grasp.
The Pinch Grip
which was also a nice soft texture with deeper indents in it. Both of my kid's preferred The Pinch Grip as they thought it was more comfortable.

I also received the The Crossover Original. Which I found interesting as this is an issue that I even as an adult catch myself doing. As a child I always did this much to my teacher's displeasure. I don't remember pencil grips being available back then. I notice the difference in my handwriting when I do hold my pen incorrectly and cross over. It's not as legible. Some habits are hard to break at my age. This was my kids' favorite one to try out.
We thought we could make some Hanukkah crafts with these. We have been eyeing this idea for awhile.
This was a no mess craft that was a lot of fun for Hanukkah. My kids want to make Hanukkah Cards this year using the tape technique.
We also had some fun with our art program. The colors are gorgeous and bright. One thing I was wishing for was a thinner version of Kwik Stix so we could get into the smaller places. Something for the older kids so they can pay attention to the details.
Guess what! They have a thinner version! Thin Stix! I was surprised and didn't know it until I went on line to get links! Boy, we could of used these for our art projects.
My Final Thoughts
These are so fun and easy to use. They are versatile on many types of projects. Of course, I love that they are not messy in using or cleaning. This is for any age from child to adult alike.
My kid's verdict-they thought these are awesome and a lot of fun. They have used Kwik Stix several times and absolutely love them.
They would make great gifts for Hanukkah, birthdays, other holiday

s, and just for fun

. I know I'm now interested in the Thin S

tix.
I received a free copy of this product free in exchange for my honest review. I was not required to write a positive review nor was I compensated in any other way. All opinions I have expressed are my own or those of my family. I am disclosing this information accordance with the FTC Regulations
.