I grew up close to the Smoky Mountains in North Carolina and have fond memories of the many visits to the Smoky Mountains. I was delighted

reviewing a book in the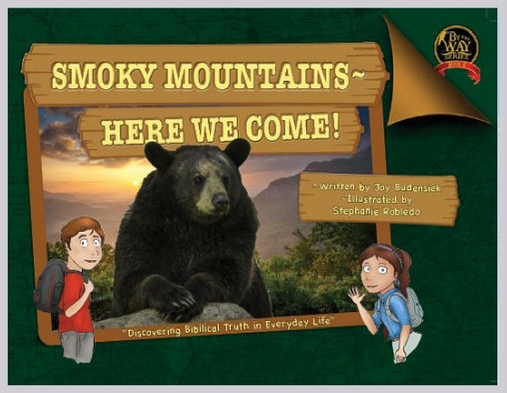 The author Joy Budensiek was shocked one day when she heard a speaker give a statistic about parents and children and that only 19 out of 20 Christians don't talk to their children when it comes to spiritual things and about God. Being a teacher in a Christian college she asked her students, "Did your parent talk to you about God in the daily routine of life?" The majority of kids said, "NO, they learned what about God at church, VBS, camps, and other church activities." She was shocked, as many of these kids come from

wonderful

Christian homes.
Through this situation she created this series of books as a means for parents to interact with their children and to open up a door for further conversation about God and his amazing creation. She uses Deuteronomy 6:7

"

You shall teach them diligently to your children, and shall talk of them when you sit in your house, when you walk by the way, when you lie down, and when you rise up". This scripture should be reminder of the responsibility that God has commanded use to teach our children as parents about God in our day to day activities.
Smoky Mountains ~ Here We Come! Is an 8x10 hardback book with 48 full colored pages. The illustrations have vivid photographs of some of God's amazing creation around the Smoky Mountains. There are gorgeous pictures of the animals, plants, insects, fungus, and the Cherokee people. The pages are a high quality paper. The characters are animated figures in the book.
At one time the Smoky Mountains had whole communities in the area that is a now a national park. That is just a taste of some of the information you will learn

about.

Within these 48 pages there are many interesting facts about history, people, botany, animals, entomology, and much more.
What I love the most is that is a scripture base book that gives God glory for his creation. This is a Christian Worldview and Biblical values book. So many precious reminders about God through the interaction of the characters a

bout

scriptures that are scattered throughout the pages.
The age range that is recommended is for ages 5-12.
The story centers around two children, Alex and Lexi who are brother and sister to spend time with their Uncle Ted, who happens to be a Smoky Mountain ranger. He invites them up to the mountains while he is doing his springtime rounds around the Smoky Mountains. The kids discover many new things while with their Uncle Ted. Most of all they see what an amazing God we have.
Other current books in this series are available and many more are planned.
How Did I use this in my Homeschool?
My children are 14 and 11. My daughter has learning disabilities and is working at a lower elementary grade. Since reading is hard for her I used this as a read out loud in our school. We read a few pages in the week until we finished the book. We stopped a lot and talked about some of the interesting facts throughout the pages of the book. Some items would grab one of children's interest and they would want to find out more about a particular subject.
My son was fascinated about the Bobcats and the mountain dulcimer. He searched some information online about them. My daughter is obsessed with entomology due to her Autism and she gets stuck on anything that involves insects. She already knew the information she just added her own knowledge to the story. That is what it is about having conversation with our children. We get an opportunity to direct the conversation about God. How can you no

t just thinking of all those amazing insects and a Bobcat!
This book would make a fantastic unit study. There are so many potentials with this book. You could expand on the information. My son thought it would be a great book to do a report on. You could choose

a topic

in the story and write about it. It looks like all the books could be used in the same manner. You could use this with a state history study as a supplement with a curriculum.
I am really impressed with the quality of this book. The author has a goal to write 100 books about the states and the world. In fact Ireland and New York are scheduled to release in April.
I would love to see these books hit the homeschool convention. I think they will be well received in this kind of venue. I look forward to more books to add to my library and plan on sharing these gems to others that I know.
Other from The Homeschool Crew Review has reviewed different books in

the By The Way Book

S

eries. Don't forget to stop by their blogs and see what they have to say.