There are so many Bibles out there that it's almost hard to figure out which one to get anymore. The plethora of kids Bible selection is amazing these days. Zonderkidz latest kids Bible is no exception. With a appeal of a fairy tale.
The Bible is not a fairy tale, but every great story happened "once upon a time." The

Once Upon a Time Storybook Bible

highlights powerful and inspiring stories from the Bible, beautifully illustrated with fantastical artwork by Omar Aranda. Stories include: Ruth, Abigail, Esther, The Parable of the Lost Sheep, The Prodigal Son, Mary Magdalene, and many more. Each captivating story is told in a way that will get children excited about reading the tales of real heroes of the Bible.
Once Upon a Time Storybook Bible:
This is an oversized hardback Bible. The size is around 11" x 9". The cover is fully illustrated in full color with lots of details. I would say that the ages that this Bible would appeal to are from 3-8.
The storybook Bible has 144 pages. The pages are thick and glossy with a nice size font for younger readers. The front page they have a presentation page. Each page has beautiful illustrations on them. They remind me of the animated Bible stories I use to watch with my kids when they were younger. The pictures are truly delightful to grab the attention of your little ones.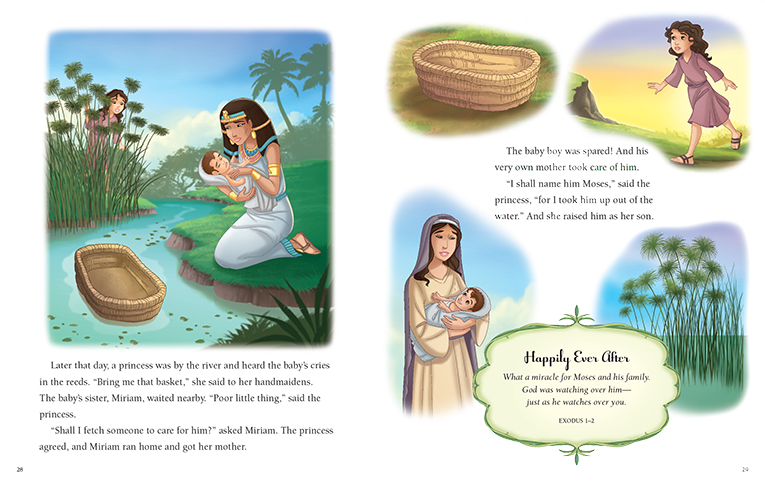 There are 33 stories from God's word in the Old and New Testament. The Bible portions are the typical ones you find for this age in storybook Bibles. The stories are short enough to introduce your kids to some of the stories from His word.
This is a nice Storybook Bible for this age range that any princess will love.
NIrV Once Upon a Time Holy Bible:
The Bible is not a fairy tale, but every great story happened once upon a time. The NIrV Once Upon a Time Holy Bible contains a presentation page and also highlights six great stories from the Bible on 24 full-color inserts. Each story is told on four pages in full-color, illustrated splendor. Also contains the complete New International Reader's Version (NIrV) of the Bible.
God Makes Man and Woman

Isaac and Rebekah

Ruth Finds Happiness

Queen Esther

Mary and Joseph and an Angel

He Lives!
We all have our own tale to live and what better place to look for help and encouragement than the greatest story of all.
Once Upon a Time Holy Bible:
This is a standard size hardback Bible.
The Bible is intended for 8-12 year olds.
This is a hardcover Bible with 1,144 pages. The pages in the Bible seem to be a bit thicker than the average Bible. The 24 fully colored illustrations are beautiful with a short version of 6 familiar stories.
In my opinion I feel that the font is extremely small for this age range. Especially, for the younger kids who still are still not proficient readers and don't track as well with their eyes.
This is laid out like a typical Bible would be. This Bible also has a presentation page. There is an index in the front to help locate books of the Bible and the following page has the books of the Bible listed in alphabetical order with the page number.
The books of the Bible don't have an introduction page
. Which, I would expect this to be the normative for this size of a Bible for kids. More and more this seems to be standard in kids Bibles these days. I think it's important for kids to get a background of the book they are reading.
In the back there is a nice Bible dictionary. The last page has a list of the more known Bible Stories that you may be familiar with from you children's class and they are listed with the page number.
I would love to see the words of my Lord and Savior in red. I think it's so important for these life giving words to stand out for our kids. I also would love to see maps included in this Bible.
I have mixed feelings about this Bible as I see potential I just don't think it's the best one I have seen for kids in this age range.

For some this may be a good fit so don't just take my word for it and look at other reviews. Go to your local Christian book store and see if this is something you feel would work for your kids.
As I always say I'm not reviewing God's Word just the add-on in the Bible and even the theme.
I really do love the
Once Upon a Time Storybook Bible and think it's great for the intended age range.
Bibles: Available where books are sold
BUY LINKS:
http://media.harpercollinschristian.com/page/onceuponatime
#OnceUponATimeBible AND #FlyBy
This book has been provided to me by Flybye Promotions free of charge and in no way was I asked to give a positive review. The opinions I have expressed are my own.
I am disclosing this in accordance with the Federal Trade Commission's 16 CFR, Part 255.

All links were current when posted.