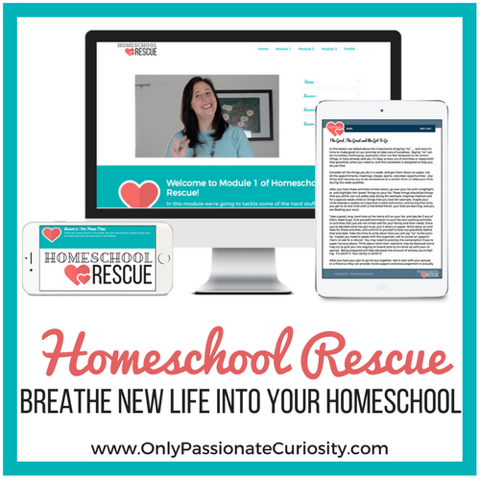 I have been homeschooling for 10+ years. When I first started out homeschooling it would have been so helpful having a resource that covers all aspects of homeschooling. Recently, Only Passionate Curiosity has put out a great resource, with their Homeschool Rescue. I have found that this is very helpful even now with many years of teaching my children. I think we all get burned out and need to relight a fire into our homeschool. I was delighted to review this.
Homeschool Rescue was created by Heather Aliano. She is a former Homeschool Review
Crew member. This homeschool mamma understands all the ups and downs and all the challenges that we homeschoolers face.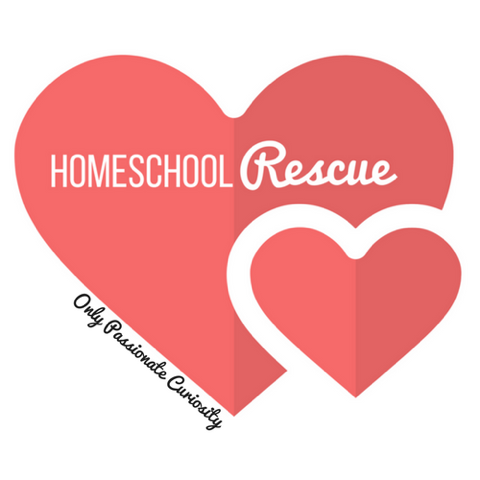 What is Homeschool Rescue?
Maybe you are a new homeschooler just beginning your journey or maybe you need to be refreshed in your homeschool journey after many years of teaching your kids. It's easy to become overwhelmed in all the responsibilities of preparing our children academically. Homeschooling can throw a stone in a house running smoothly and other aspects that you may not foresee. That is where Homeschool Rescue comes in.
Homeschool Rescue is a 60 day eCourse. You have Lifetime access to 20+ videos
. The courses are broken down into 5 modules. (With more coming in the future.) Each module has several lesson that you a have an option to download a transcript or and audio version. There are worksheets on all the topics for you to work through. In other words you have homework that you have to do.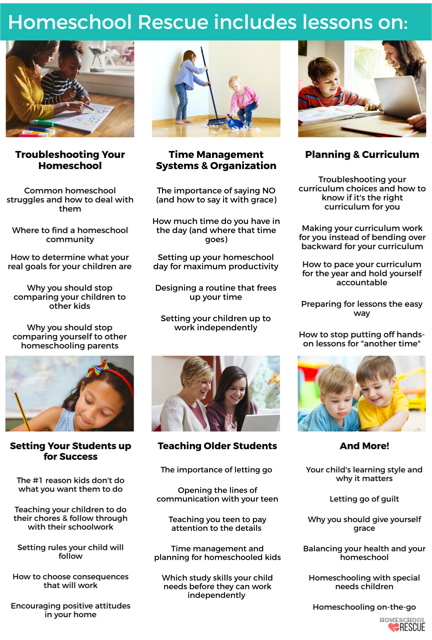 Module 1: Triage Your Homeschool
Module 2: Time Management Systems & Organization
Module 3: Curriculum Planning & Organization
Module 4: Setting Students up for Success
Module 5: Teaching Older Students
Each one of the modules have anywhere from 3-5 lessons. The videos vary in time but, the typical lesson seems to be around 20 minutes. The lessons touch on topics like learning how to say no, learning styles, planning and pacing your curriculum, chore list, and so much more.
You have access to a Homeschool Rescue Facebook Community. On the Facebook Community starting June 1st you can do live classes and work with other homeschool moms. If you prefer you can work independently and work in a private Facebook community. Or you can get personal support via email. You get to choose what works for you.
I'm not on Facebook so I can't tell you much about that aspect of it. I'm sure other Homeschool Review Crew can fill you in on how that works.
There is a whole plethora of Bonus content available also. There is The Ultimate Homeschool Planner,
Homeschool Student Accountability
,
Teen Academic Planner, and much more.
What do I think of Homeschool Rescue?
Sometimes I get caught up in my daily routine with things that have worked for years with my kids. The reality is that my kids change and I change. We have more outside activities going on that I find I don't do a check up in my homeschool.
Anyone who has homeschooled for any amount of time knows that we all have bad and good days. Sometimes we just need to step back and take a reality check. Most of all we need to reignite our homeschool for the sake of our children. I don't know about you but, I want to give my children the best that I can do. If I'm not doing well then it rubs off into my homeschool.
We moved a year and half ago into a smaller house. I have been a disorganized mess in my homeschool. I just can't seem to get back into my organized tidy self. Doing the homework and downloading the list has been a huge blessing to me. I have been de-cluttering and getting rid of curriculum and supplies that I just don't need any more.
Looking back at my homeschool journey I could of used the lesson on saying "no" and having a "curriculum check up".
I love the ease of the website it's very simple and organized to navigate. Heather's voice is very clear and she is easy to understand. The videos are simple graphics with outlines or list of the topics. The videos are laid out nicely and I like the simplicity as it doesn't take away from the content.
The topics are realistic. I've read books and seen blog post that I walk away feeling like a homeschool failure. I appreciate her style she brings into Homeschool Rescue.
This is a great resource for a new homeschooler or one who has been at it for many years.
Don't forget to see what others on the Homeschool Review Crew have to say about Homeschool Rescue.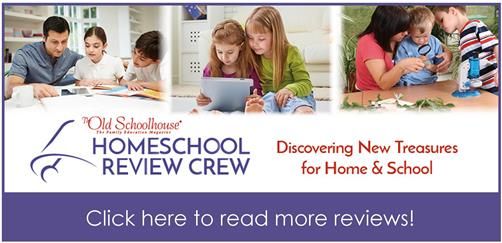 Hashtags:
#hsreviews #homeschoolrescue