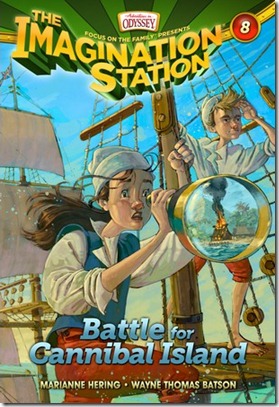 Beth and Patrick accidently end up on an adventure in the Imagination Station. When Patrick sees the tropical island he hopes for a fun vacation. Little do they know they are heading to the Fiji Islands with a bunch of cannibals who aren't very happy about their fellow Fijians who are now believers in Jesus. Its 1852
and
the British ship HMS Calliope under the command of Captain James E. Home. They are looking for an island to drop off prisoners. They are about to meet some interesting people.
Missionary James Calvert is paving the way for peace with King Toki. Patrick and Beth are about to learn the true meaning of sacrificial living when they see the compassion James Calvert has for these dangerous natives. The love that he has for spreading the gospel to the point he is willing to risk his life for.
As always these are wonderful books that are packed with lots of adventure. The cousins always find themselves growing spiritually in the lessons they learn along the way.
Tyndale House Publishers has provided me with a complimentary copy of this book.
In no way was I asked to give a positive review. The opinions I have expressed are my own.