I have been given the opportunity to review Science4Us.com Online Subscription for 6 months access.

If science is a subject that gets put on the back burner in your home then Science4Us.com is a great way to teach your children a complete standard based science curriculum in your homeschool. This is also a great resource if teaching science intimidates you.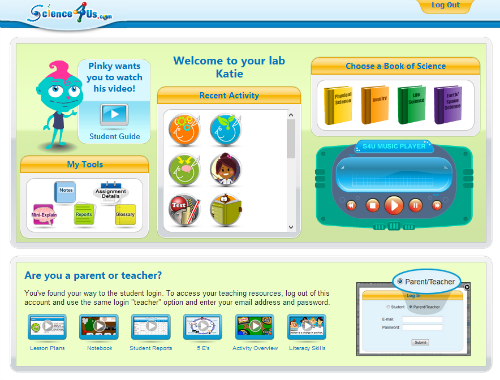 I decided to first start in the, "getting started" which has several videos to navigate you through the site.
This is a computer based science curriculum. I would recommend a printer if you want to do some of the worksheets offline. Your child will need to know how to click, drag, and draw using a mouse.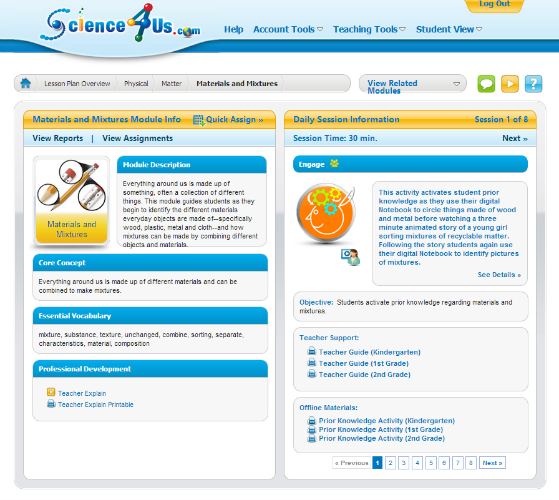 Science4Us.com uses what they call the 5E's which is engage, explore, explain, elaborate, and evaluate to teach science. The teaching are broke up into modules which cover the 5E's. Within each module they
lessons are categorized into four groups, Physical, Life, and Earth/Space. Each module is broken down into different sections also. An example would be Physical science is broken down into matter, energy, force and motion. Each area is broken down into smaller units of study. Some of the activities include keeping a science notebook, review exercises, quizzes, and other activities.
The teacher's section allows you to schedule lessons for each student. You can schedule them to go at their own pace or set a time to complete each section. You can see your students' progress with the student reports. You can view their activity completions, percentages received on scored activities, answers to the evaluations, and notebook entries. You can also print out some activities with each lesson according to grades if you want to add in the hands on approach. This is a secular science curriculum. I didn't see anything that effects my belief's as a Christian.
How did I use Science4Us.com Online Subscription?
I used this with my 2nd grader and my 11 year old with learning disabilities. My plan was to use this as a supplement 3 times a week. My kids loved Science4Us.com and literally begged for it every day. With Bug's heavy therapy and appointment schedule we homeschool a lot on the road. Science is one of our favorite subjects and unfortunately the subject that doesn't travel easy unless you plan on just reading about science. We take full advantage of hands on activities when we are home. Much to my kids delight Science4Us.com travels with our laptop and wherever we had access to the internet!
Bug had a hard time on some of the lessons due to her learning disabilities. She was frustrated with some of the activities that required you using the mouse to get items from point A to B. She asked for help and was able to move on to the next section.
We did a few of the hands on activities, worksheets and evaluations offline.The activities were simple activities that I had available in my home. I didn't have to do much preparing either on any of the activities!
Pros:
Ready to go curriculum with little or no prep time.

You don't need to have a science background to use Science4Us.com.

My kids learned a lot of science, math, and even language arts.

All hands on activities that I added to the program are items that I have in my home or something I can substitute easily.
Cons:
Price could be a draw back if you have several children.
Science4Us.com is a wonderful program. My family absolutely loved this program and will enjoy still using it over the next few months of our subscription.

I would recommend this to anyone who is science challenged or who wants to put the foundation and love of science into their kids.
To learn more, visit the Science4Us.com website and watch demos
Here are the social media links for Science4Us.com:


Twitter: https://twitter.com/Science4UsSays
Pinterest: http://www.pinterest.com/science4us/
Facebook: https://www.facebook.com/Science4Us
G+: https://plus.google.com/u/0/b/112259351657747584252/