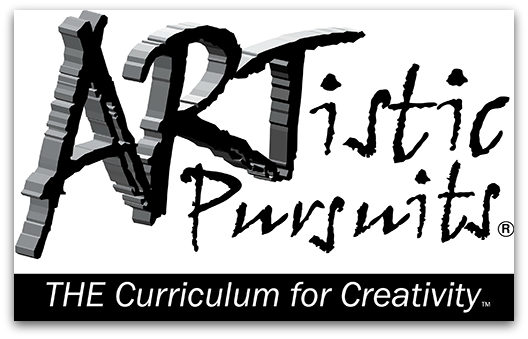 My kids and I really enjoy art. Somehow in my house it tends to be the one subject that gets neglected when schedules get out of hand. I was excited to be able to do a review for the Schoolhouse Crew Review for ARTistic Pursuits. I jumped at the opportunity to do a review for my all-time favorite art curriculum, ARTistic Pursuits. I selected the Early Elementary K-3, Book 3: Modern Painting and Sculpture for reviewing.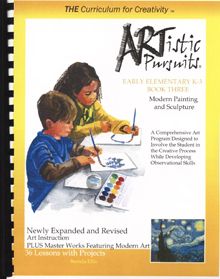 All of ARTistic Pursuits is marked for grade level in the products titles-no guessing if a particular book is geared towards the right age group. Early Elementary K-3, Book 3: Modern Painting and Sculpture is priced at $47.95. This price does not include the art supplies needed for the curriculum. All the supplies can be ordered at ARTistic Pursuits, your local hobby store, or even your favorite homeschool store.
ARTistic Pursuits comes in spiral bound books which folds out flat. The books are non-consumable so one set serves your entire family. Early Elementary K-3, Book3: Modern Painting and Sculpture is for a grade K-3 has 36 lessons.
You will be introduced to traditional methods for creating sculptures, paintings, and carving, as well as modern techniques. You will learn about and have engaging discussions of movements like Fauvism, Cubism, Futurism, and Expressionism.
What does a typical lesson look like?
You will get an overview of an artist, their style of art, and a brief history. Some lessons has the student engage in questions of an art piece that the student has to look at the picture and answer simple observation questions.
Next, the project page will list the supplies needed for the particular project. The art project is explained in an easy step by step manner. On this page the kids get to see the "Student Gallery" of other kids their age that created a similar project. Beautiful full colored illustrations of several Master Pieces are shown within the curriculum.
The lessons are simple for us parents who aren't comfortable teaching art or have not an ounce of artistic ability (that's me, I fall in both categories). Basically you read the text. Art can be real easy with the the right art curriculum. The curriculum has a helpful section for parents explaining the context of the modern art movement.
How did my homeschool use ARTistic Pursuits, Early Elementary K-3, Book 3: Modern Painting and Sculpture?
We did 4 lessons a week. We had a lot of art going on in our home. I had some very happy kids.
We have painted using different types of mediums. We have learned lots of techniques using various types of paint brushes. We learned how to mix colors. Lots of drawing, made our own stamp dabs, introduced a spoon to create a master piece. Made sculptures out of pipe cleaners, clay, cardboard tubes, and even soap.
We have been very busy with art. My kids aren't complaining a bit. I forgot what a motivator art is to finish up the required subjects! Typically, I wouldn't do four art lessons a week. Rather one lesson a week. For the purpose of this review we did a lot more.
Art is fun. It's a great art curriculum for your homeschool.
The supplies can be found at your local hobby store or you can order online.
Price is reasonable when you look at cost of art lesson and classes.
The only preparation is gathering the supplies.
You don't have to have an ounce of artistic ability to teach art. Mom looks and feels like she knows what she is doing concerning art.
Art supplies can be pricey.
Art can be time consuming due to happy kids who use lots of brain creativity and don't want to stop. Plan accordingly!
I had so many art projects that I couldn't decide which ones to show. I let the kids choose their favorite projects. Their favorite art project really surprised me! I really thought the sculptures would be a favorite. They proudly have their projects sitting on their shelves in their rooms for all to see.
My kids love art and I love the fact that I can teach art with confidence using ARTistic Pursuits. This is a plus for this mom who is challenged with teaching art. I highly recommend ARTistic Pursuits.

Here are the social media links for ARTistic Pursuits:

Facebook: https://www.facebook.com/ArtisticPursuitsInc