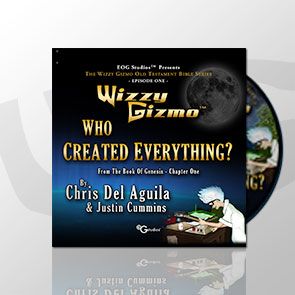 Book One: Who Created Everything is based off the book of Genesis-Chapter One. This goes through the seven days of creation. This is of course a Biblical based audio drama for Genesis 1.
Wizzy Gizmo is an inventor who created an invention called the "Gizmovision" that has the ability to take a book and to transport you to the event going on within the pages of the book. Wizzy Gizmo takes the group on an adventure using the Bible and goes to Genesis Chapter 1.
Along with Wizzy Gizmo you will meet other characters like Qwacky which is a duck, Pepe a dog, Summer, Thomas, Eli, and Olive. Each character is unique and has a different personality that is fun and loving.
Genesis 1 is read out loud and afterwards the adventures start to happen. Whether it be a discussion, song, and ends up pointing it back to the Word.
After Wizzy Gizmo take the group through creation there is a quiz followed by some worship songs. They aren't the children type of worship songs. The kids will still enjoy the worship music on the CD.
There are 22 tracks on this audio drama CD:
1. Wizzy Gizmo theme song
5. Day Three of Creation Part 1
7. Day Three of Creation Part 2
8. Mango Oh How I Love You!
10. Day Three of Creation Part 3
20. Under Water Adventure
21. Creatures of the World
There are other products available like: Fast Track Bible Pack: New Testament, Book One: Who Created Everything?, and Book Two: In His Image. Other TOS Crew members reviewed other products.
Both my kids ages 8 and 11 listened to this CD. We listened to it several times over and over as my kids were very delighted with this audio drama. We mostly listened to it in our van when we are on the go. This is often in our household to be on the road several times a day.
I also used the Audio Drama "Book One: Who Created Everything?" to help Bug my almost 12 year old learn Genesis 1 better. My daughter has learning disabilities and this was a perfect fit for her learning style. She is getting ready to do her Bat Mitzvah in October. Her portion is actually on Genesis 1. It has been a fun way to get her better acquainted with Genesis 1. This has truly helped her learn the order of Creation and to burn it into her memory and heart.
We absolutely love it. I don't have any bad thing to say about this product. It made us laugh and brought up some amazing observation and conversation concerning Genesis 1 and our Savior Jesus.
I have to say that I will never-ever look at a mango again without singing the,"
Mango Oh How I Love You!" song. I can't count the numerous times my kids have listened to or sang this silly and so fun of a song. I truly don't know if its irritating or just makes me laugh as often as I have heard it.
This is a Biblically sound audio drama as it didn't stray away from the Bible. It's a bit silly but, the Word is still kept and not washed down. Their is some doctrine on the Trinity but, other than that it doesn't go into any other doctrine.
This has been a wonderful resource for my family. This has been a great way to listen to the Bible and to enhance your child's Christian education. I look forward to trying other of Wizzy Gizmo in the future. My family is hooked. This is just a great way to bring the Bible to a whole new level for children. I don't endorse to replace the Bible for Wizzy Gizmo but, it sure captivated my children's heart. They have even talked about it to their friends and of course the," Mango Oh How I Love You!" song has been shared with friends. This would be a great resource for a Christian family.
See what other TOS Crew members are saying about Wizzy Gizmo they have reviewed different products than what I did.