23 August 2014

I am excited to tell you about a review I have been doing the last few weeks with UberSmart Software and their UberSmart Math Facts. I know how important it is for kids to master those math facts to be able to succeed with confidence in math. Honestly, I dislike drilling for math facts.
UberSmart Math Facts is for grades K-6 or any age that needs to work on memorizing those math facts. The cost is $24.95 for a one time purchase price.
This is a downloadable software program to help with memorizing math facts. It can be downloaded on Windows 7, 8, XP, and Vista. You can have up to eight+ students assigned to it. You can also download it to more than one computer in your home.
Mastering math facts is not my children's favorite thing to do. Even my math loving son groans over it. This software is like having flashcards on a computer. Nothing fancy or distracting just plain old fashion repetition of those math facts. You can do addition, subtraction, multiplication, and division.
You have an option to choose from either beginning level or intermediate level. On the beginning level it has dots-kind of like dominoes on it and you click on the correct answer with the mouse.
The intermediate level you use the key board to solve the problems. You get immediate feedback on your answer on both levels.
Practice: Is where you practicing learning those math facts,
Test: Is just like it says it does an assessment of those math fact mastery skills. You can print out the results also.
Compete: For those kids who like to compete to see how fast they can go.
Report: This section allows you to see the progress and print out the reports.
Maintain: This area is where you can adjust items for individual students.
Parents can track the results of each student's progress. I like that the students can also look at their mastery charts and grade book. You have the option to even print out the grade book for your records.
I am not as diligent as I should be with having my kids remember those math facts and I beat myself up for it for not doing it enough. We live in a digital age and the kids just really love anything that they can do on the computer. Having away to bring the computer and flashcards together is the icing on the cake.
Bug has a lot of learning disabilities and getting her to memorize math facts has been one of our biggest challenges.
We used this four times a week. I downloaded the software on our desktop in the classroom and on our laptop. My 11 year old daughter, 8 year old son, and 40+ mom used UberSmart Math Facts.
We started out by taking the assessment. This gave me a general idea of what math facts needed to be worked on. I even needed a few areas to review.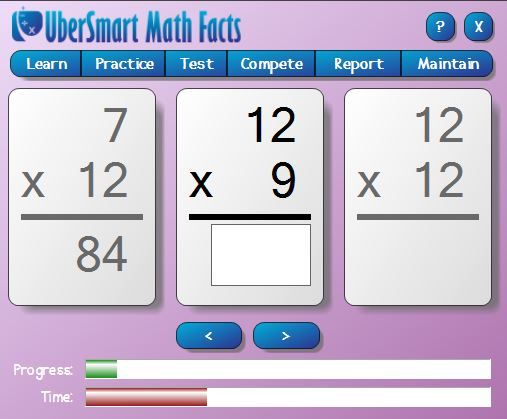 Little Man loved using the compete tab as he is all boy and is very competitive. Bug wouldn't go near that part and I encouraged her not to.
The kids basically explored every area of the program that they could. Bug liked the dot cards and I let her do her facts with the dot cards if she wanted to.
The average time that was spent on it was around 15-20 minutes at the most.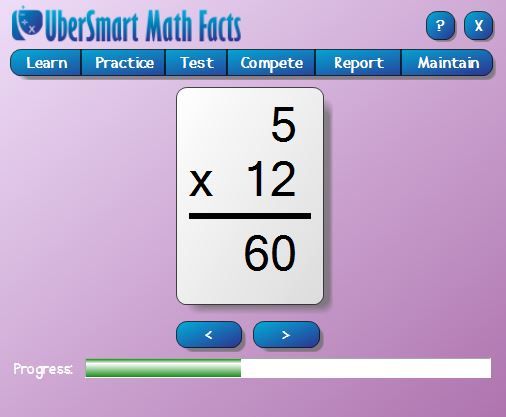 It's basic nothing flashy or not too busy to distract from learning those math facts.
It's extremely reasonable with the cost, the amount of students I can add, and that I can put it on several computers in my home.
My favorite part is that I can track their progress and see where they need more practice in. The kids can see that they are improving when they see that they mastered a certain math fact.
I have my own password that is separate from my kids to make any changes like time limits and other functions. This function is vital for my daughter with disabilities as she doesn't function being timed.
I like the Keyboard entry to help build those ten key skills.
I don't like the screen size I would love to see the flashcards and working area be larger or have the option to adjust it. My daughter has pretty severe vision impairments and it would be nice to adjust the size. It is still a nice size for most kids.
Overall both kids liked UberSmart Math Facts, still its math and my kids don't get overly excited over math. Bug really liked that she could look at her progress and it made her feel good seeing the smiley faces fill up.
I liked that it was still a fun and effective way to drill those math facts I think this is a worthwhile investment to add into your homeschool. Even if your child is in the public school this is a good way to help them succeed in math.