30 September 2014
Tuesday, September 30, 2014
Have you ever wondered how dogs came to be on earth? Mariita Gentry's story tells how dogs were originally in heaven and did not even have a name yet. God one day looked down and saw a very special boy who needed someone special to teach him about God's love. He then gives the dog his name and tells him why he is named that and why this mission is so important. The fate of all dogs being allowed to go to earth depends on how well he accomplishes his mission.

This is a wonderful tale of a dogs devotion and love to God, but also to his very own meant to be human. You will love the time you share with your young reader as you read this beautifully told story and the stunning illustrations. Told in an easy to understand manner that will let all who read it know that God gave us a very special gift with mankind when He sent that first dog down from heaven on that mission to test the waters for all the other dogs.


About the Book
"Brian" is a composite of the many children who attended the Alabama Institute for the Deaf and Blind (AIDB) in our hometown of Talladega, Alabama. My husband Ken and I had the privilege to know and work with children who had to learn to live life with one or more disabilities, making us intensely aware of some of the difficulties that accompanied eyes that did not see or ears that did not hear. We also wondered how parents of these children dealt with the challenges that the entire family faced while accommodating necessary differences in daily life for their child with disabilities.

For example, how does a parent teach a child about concepts that are difficult to grasp even without disabilities? How can parents share emotions, morals, beliefs and concepts such as patriotism, charity and forgiveness to a child who cannot hear their explanations? As Helen Keller had to learn, once she made the "connection" between flowing, wet water and the sign for water, her learning increased dramatically. But how do you make a "connection" when the topics are intangible or emotional?

The concept of a loving God is one of those "connections" that must be made for an individual to have a fulfilled soul, regardless of their physical abilities. God uses many means to help people to understand His goodness, creation and grace. Why not a dog? Don't we all deserve to see, hear, feel and experience God in everything around us?


Why Dogs Are is the 1st in a book series aimed at raising awareness for the roles animals play in our lives to enhance and improve our physical well-being.
This hardback book with the eye catching red cover and a face of an adorable dog caught my attention immediately. Not only the cover but, the topic was even more of a draw to me. Having a child with disabilities books that raise awareness always tugs at my heart. Granted my child doesn't need an animal for her disability but, I know several individuals who have dogs to help them.
This book has colorful illustrations that will be a big hit with any child. The story is short and sweet.
The book comes from a Christian perspective about how God wants to help those in need because of their disability by sending a dog to help them. He centers the dogs attributes to what God gives us unconditionally. First, you are to love without expecting anything in return. Second, you are to forgive those who hurt him-then to forget the hurt and love them even more. The story ends with God telling the dog to go to earth. I won't spoil the story.
Is this book correct Biblically? No, it does not have any Biblical basis at all concerning God and heaven. On a positive note it does in my opinion show God's attributes and the big help that dog's do for those who need help in the way of a four legged friend. On side note my daughter with disablities loved the story. My 8 year old son couldn't understand why it didn't keep closer to the Bible as he thought it would of made more sense and more accurate.


100% of the Net Profits from the sale of this book are given to the charities and organizations that support animals and their interactions with individuals, organizations, and situations. You can visit www.WhyDogsAre.com for a list of the recipients.
This book is the first in the Love Unleashed series.You will have to decide for yourself if this book is for you. Overall I thought this was a sweet story that took a lot of liberties but, at the same time shows God's attributes and his love for those with disabilities. Will I look at the next book in the series? Most likely yes.
I received this book free from the publisher through the
BookCrash.com
book review program, which requires an honest, though not necessarily positive, review. The opinions I have expressed are my own.
Tuesday, September 30, 2014
We had a wonderful day at the zoo with friends in our homeschool group awhile back. It was a gorgeous day that was mild. My favorite kind as it wasn't hot and muggy out.
The black mambo. I don't think I have ever seen this snake active before
Little Man found the donkey which is actually newer to the farm area.
Okay I know I have taken pictures of the hive before. Did you notice how clear it is this time. I got a new camera that is a much better camera that we can expand with lenses as the budget allows.
You can see some of the burr comb the girls have build up on the glass.
The girls look like they are working hard.
One happy girl when she sees the bees.
This is a gorgeous picture in my opinion. I am thinking of making this his yearly picture.
Milking the cow. It's not a real one.
Little Man taking a turn.
Interesting face, wonder what he's thinking.
Bug took the flower pictures.
A carpenter bee forging in the wildflowers.
This tiger was not so pleased with me disturbing it's meal. Right after I snapped this picture the tiger pounced on the glass right at me. I was down on my knees taking pictures. Grateful for the glass enclosure. Can't help not to wonder what it was thinking.
Little Man was excited with the eagles being so active.
It's seems like the beginning of the school year is busy with field trips as the weather is so nice.
28 September 2014
Sunday, September 28, 2014

Grammar is a hard subject for me and is not something I enjoy overall. The reality is that I don't feel confident teaching grammar to my children. I do have to say that while teaching my children I have been relearning grammar and have learned to appreciation grammar more. What it really boils down to is that as a child I never got a solid foundation in grammar.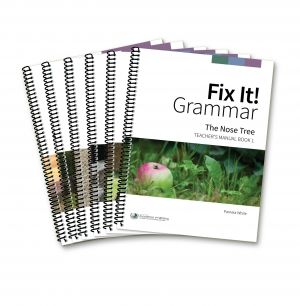 IEW recommend that you start in grades 3-12. It is recommended that you start in Book 1 to build a solid foundation. However you can look at the placement test and a Webinar to decide what is best for your children. If your child has a foundation in grammar then they will move quickly through the series or you can place them at a different level. There are 6 different books in the Fix-It! Grammar series.
The Teachers Manual clearly guides you through the program that is a 33 weeks of grammar instruction. They recommend that you do 15 minutes a day, four days a week. You will need to have a binder with four tabs for each student. For those of us who don't have a good grasp of grammar and editing you don't need to look far to see if they are doing it correctly as each lesson has an answer key along with notes to clarify it.
Every week I see a preview of the week's lessons along with instructions.
The
Fix-It! Grammar: The Nose Tree Book 1 Student Book is also a soft bound spiral workbook broken down by weeks and days. Included in the book are a set of 24 flashcards of the grammar rules. The flash cards are a sturdy card-stock. The student book also has a glossary in it.
Fix-It! Grammar uses classical fictional stories (abridged) to teach grammar. The lessons are brief to help build those grammar and writing skills. New skills are taught weekly. The lessons gradually build on one another and progressing slowly to make it more challenging.
How did I use Fix-It! Grammar: The Nose Tree Book 1 in my homeschool?
I used this with my 8 year old son who is in grade 3. He is my child who doesn't enjoy writing or grammar. I was extremely happy that the lessons are short to keep his attention. We used this 4 times a week and the lessons took him around 15-20 minutes to complete. The time depended on whether or not I could read his handwriting.
It starts with me reading the lesson to Little Man. This is where he is introduced to a grammar concept. He had one sentence to work on daily. He would then correct any mistakes in the sentences and identify the learned grammar concepts. You label the grammar notations or abbreviations which are letters like "n" for noun or "adj" for adjective.
Each week you are introduced to new vocabulary words which Little Man added to his student binder and he used as a dictionary to help him remember those new vocabulary words. The vocabulary words are in bold print.
He then would write his sentence in his notebook. Each day you will continue with the same pattern. The sentences are from the story of, "The Nose Tree."
Little Man actually liked Fix-It! Grammar: The Nose Tree Book 1. This honestly surprised me as this is grammar and writing! I was one happy mamma.
What did I think of

the Fix-It! Grammar: The Nose Tree Book 1?
I like the shorter lesson that don't seem so overwhelming to both my son and even to me. I felt that it was enough to grasp and retain the information easily.
The program is so easy to understand. I like how it is in story format which is unique. I don't know of any other program that does this.
It includes vocabulary, grammar, punctuation, spelling corrections, editing, writing, and copy work. This is a complete language arts program.
This isn't a program that you give to your child to do independently. At the same time Fix-It! Grammar: The Nose Tree Book 1 in my opinion is something that the teacher guides the student in and then lets them work on being independent. I am still involved and at the same time they are building to be more independent. It's not a program that is so teacher intensive that it is overwhelming. It's very gentle with my involvement that I don't feel like I am breathing down my son's neck every step in the program.
Fix-It! Grammar required
minimum set up on my end. Which includes getting the binder ready before you begin or copy pages from the download. I can glance at the lesson quickly before we begin.
You can download the book once you purchase it and use it for your other children. I love it when I can do that as it saves me money and it also determines whether or not I purchase a particular curriculum.
I honestly can't think of anything that I disliked about Fix-It! Grammar: The Nose Tree Book 1. My son liked it and didn't complain overall. Hey, he's a boy and would rather be off exploring or creating his own adventure. Once we started the lesson he was willing to do it without complaining.
I found a complete grammar program that is a good fit for my family. I will be investing in the other levels in the future. I also think it would work for my 11 year old with learning disabilities and I will be downloading the lesson for her here soon.
You can follow IEW on this social links:


27 September 2014
Saturday, September 27, 2014
We are in studying Biblical, Jewish, and Ancient Israel history


Scripture Memory Verse:

We are reviewing 1 John 1:1


Bible

We are doing our biblical studies different this year. We did start the New Testament this week and will work our way through it.
A Child's Bible Lessons from the Torah by Seymour Rossel
Artscroll a Childs Introduction to the Siddur.
The Word-Wise Adventures of Yisrael and Meir Going Global Book One: The Thirty-one Mitzvos.
Read out Louds

We are reading, "
Christian Heroes: Then & Now Lillian Trasher They Greatest wonder in Egypt by Janet & Geoff Benge

For Poetry we are reading, "To
Be a Free People the Saga of Israel by Michael Bar-Zohar. This is a book of poems, songs, newspaper articles, and quotes from Israel.
Physical and Health Education

Little Man is still doing karate twice a week. Right now our weekly PE class is on hold.
We are doing an online nutrient class from Standard Deviants Accelerate as part of a review for TOS Crew. I will tell you more about it soon.


Therapy and Appointments

Bug had food therapy and for the first time ate a plum and a salad with dressing. I also had her eat some rice and beans.
She had horse therapy and went on a trail ride and picked mom a lovely bouquet of wildflowers.
History and Geography
We are still reviewing some of the national symbols of Israel. We learned more details about each symbol.
National flag - Flag of Israel
National emblem - Emblem of Israel is a menorah with olive leaves around it.
National anthem - Hatikvah
National colors - Blue and white
National Flower - Anemone coronaria
National dog - Canaan Dog
We did our passports and worked on our Israel notebook.


Language Arts and Math

Both kids are working on root words and prefixes and suffixes.
Little Man is making sure he has those addition math facts down. Bug is working on multiplication.
Science
In science we are learning about nonvascular plants.We did an experiment using a paper towel to show how it absorbs water.
We also studied different seeds and

noticed

how unique each seed is.
We released the last moths from our butterfly garden. I am glad that they finally emerged.
This is the Fall Webworm. I think this is the female from what Bug researched.
They are pretty but can be quiet destructive to trees if there is a large population of them.
Then we let the bees clean out the frames. Wow talk about bees being in a frenzy. It was interesting watching them.
Hebrew, Art, and Misc... Studies
Nothing in these areas this week as we are still trying to get our scheduled worked out and mom just isn't being very organized.
However both kids are doing Hebrew just not at home.