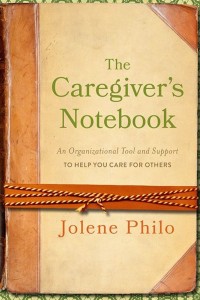 The Caregiver's Notebook offers caregivers a helpful and portable organization tool, as well as spiritual comfort for the challenging journey of helping a loved one. Complete with essential space for tracking your loved one's information, this conveniently sized notebook also provides comforting Scripture verses and thoughtful devotionals from caregiving experts. This easy-to-use resource can help reduce the caregiver's stress and encourage dependence on God in difficult times.
Having a child with special needs can be extremely stressful and challenging. I am a pretty organized person despite the busyness of caring for a child with special needs and homeschooling. My first thought when I received this was, "I wish I would have had The Caregiver's Notebook years ago when I started down the road of caring for a child with special needs". It would have saved me hours of gathering everything together and knowing what information I needed. Then it took me awhile to realized how important it is to have everything together in one place. Needless to say my method isn't as convenient to take with me as The Caregiver's Notebook. Now I can transfer everything in this portable life saver!
This is a lovely hardcover spiral-bound book that lays out flat. Having a book that lays out flat makes it extremely easy to write in. It's those little things that make my life easier and gets me excited!
Each section has easy to see tabs to find it quickly. When you're facing a bad situation and your brain is in a fog these tabs will be nice.
What makes this so essential in caring for a loved one? Everything is in one place.
How to Use the Caregivers Notebook
I also need encouragement for the many times I'm sitting in another waiting room and feeling down, tired, and wondering why me. Jolene Philo does an amazing job with having scriptures and inspirational quotes throughout the pages. Not to mention a Bible Reading plan and a prayer guides. Sometimes I just don't know how to pray or I am in need of some inspiration while reading God's word. I don't carry around a Bible reading plan but now I can when I just don't know where to go due to lack of sleep and brain fog.
There are a lot of nice tips with the "Stress Reliever" in the appropriate section.
I tend to write large and I was pleased to see the space provided in each section is very adequate.
The calendar is set up for three years in which you can fill out the year and months yourself.
You will also find a pocket in the back for lose documents and test results that you can stash away in the back until you get a breather to add it in your notebook.
I do have one compliant with The Caregiver Notebook.
I know I want my cake and icing to make it even easier for me. I want to be able to order extra pages to add to the book. What happens after my calendar or contact list is full? Doctors and information are always changing like a revolving door. I don't want to fill out a whole book again. So please consider making this book into one I can order extra pages. I realize not everyone will need this option. Make two options for this book one just like this and another one with an option to expand if needed. PRETTY PLEASE! It would be worth paying a little extra to have that peace of mind being organized. Of course not too pricey for that option or for the inserts as I am a one income family with a child of special needs. I like easy and convenient and The Caregiver's Notebook is a great resource.
This would make an ideal gift for a family who is a caregiver of a child, elderly parent, or a spouse. Make life easier for them because they are probably too busy to realize they need The Caregiver's Notebook.
I was provided with a complimentary copy of this book. In no way was I asked to give a positive review. The opinions I have expressed are my own.