I wasn't familiar with Brinkman Adventures prior to this review. Even though I haven't listened to Season 1 or 2. Which is perfectly fine if you haven't heard the other seasons. You will enjoy Brinkman Adventures: Season 3 as the stories stand alone. It will make you want to visit the other seasons. Which my kids are already asking me about.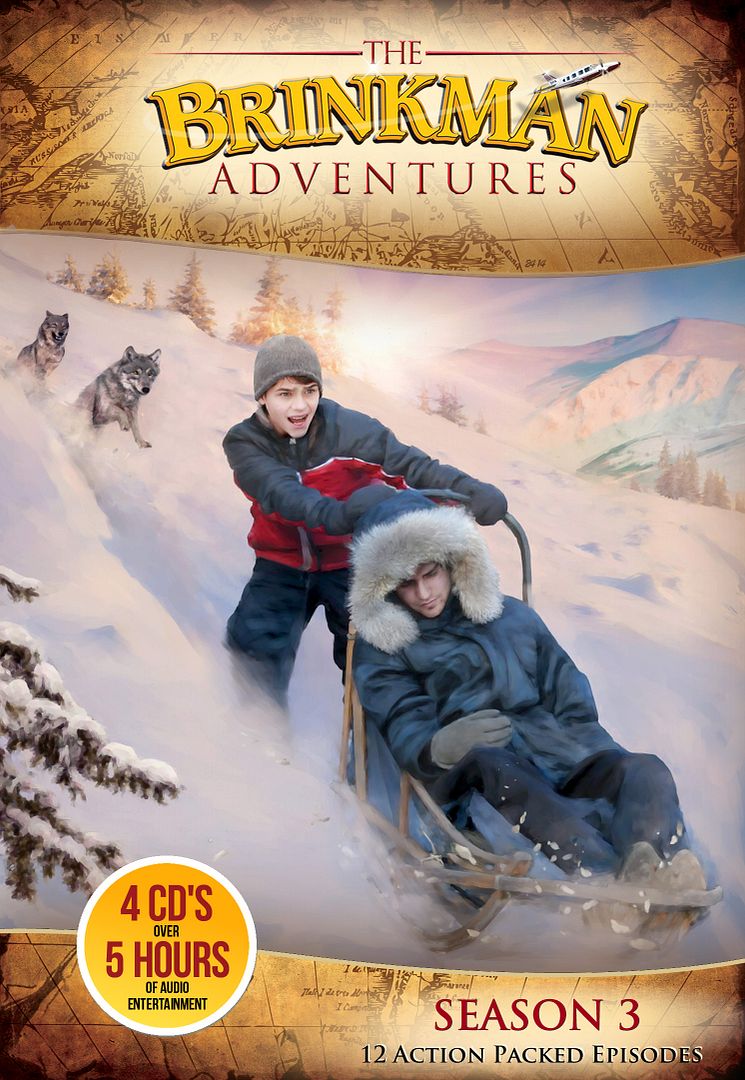 What is Brinkman Adventures: Season 3?
Brinkman Adventures: Season 3 is 4 CD's in a sturdy plastic hard case. There are over 5 hours of adventure! The 4 CD's consist of 12 episodes. The stories vary in time but, typically are around 20 minutes. You can also download as a MP3.
The stories in Season 3 are:
Missionary Tourist 2 parts
These stories are based on real life missionary stories in different parts of the world. This is a real family with 10 kids that are homeschooled. They play themselves in the stories but, the names are changed for the production of these adventures. You can go to the Brinkman Adventures website to find out about each episodes and the "behind the scene" of the story and the individuals that the stories are based off of.
Steve Saint also shares some of the missionary stories that have happened to his family. Steve Saint plays himself in the story. My son was pretty excited about this as my family read the Nate Saint biography last year.
The prices have a suggest donation price of:
The neat part is that you have the opportunity to support missionaries around the world as the money is used for supporting missionaries and for creating new adventures in future projects. You can donate more money as God leads you in the purchase of all their products.
My family gets pretty excited with Audio Drama stories lately. I listened to the CD's with my 9 year old son, and my 12 year old daughter. We enjoy listening to the stories while driving around to appointments. I love introducing my kids to wholesome stories that introduce my kids to the world of missionaries in a unique audio drama.
The stories have something for everyone. My 9 year old son loved the adventure and the suspense of the stories. He had a hard time deciding which story was his favorite. He told me that he really liked, "Untouched", "Man-Up", and the Steve Saint episodes.
As for my daughter, well that's a no brainer if you follow my blog you know that she is obsessed with bugs and her beehives. She thought it was fun that she could relate to the story, "Busy Bees and a Bullhorn". She loved all the adventures and listened to all of them eagerly. Both kids couldn't wait to get back in the car to finish up an episode or to start another one!
As for me I loved them all. One that stands out is, "The Silent Ambassador". When God touches your heart to do something it doesn't matter how young or shy you are to do a task that He sets before you. A very heartfelt story that just made me smile.
If you are looking for good family entertainment that will enrich your children's life, and bring encouragement, and awareness to missionaries around the modern world today then Brinkman Adventures will truly bless you.
Stop by the other Crew blogs and see what they have to say also.