Gone are the days of just using encyclopedias for researching topics. Kids need to learn how to use encyclopedias and the internet. My family really loves science and recently we had an opportunity to review Surfing the Net: Science from The Critical Thinking Co. I received a physical copy of Surfing the Net: Science for this review.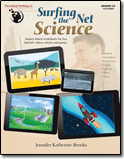 What is Surfing the Net: Science?
This curriculum is for grades 3 rd -6 th. This is a paperback book with 250 pages. It's also full colored with illustrations. It's not busy with the illustrations so it's not super busy if you have a child that gets distracted easily.
You are allowed to make copies for your each of your students for your personal use. I love this about The Critical Thinking Co. that I can use one book with all of my children.
There are 7 Sections covered in this science curriculum
Section 3: Ecosystems and Habitats
Each section is broken down in smaller units. You also have an introduction which gives you a complete overview of the book. Instructions on how to use this book along with the layout of the activities. The answers are included in the back of the book so you can check your students work hassle free.
I used this with my son who is in 4 th grade. He has been really wanting to learn how to research information on the internet. I was finding that daunting as I wasn't sure how to teach that concept in a fun and educational way. I would let him get online a research some items but, I felt he needed more specific instructions. He needed more of a constructive outlet to really learn.
Surfing the Net: Science teaches research skills through watching videos, online science games, searching for images to add to your assignment. You also take quizzes, read information online about your topic, and so much more. The best part is that the website link is provided for you to type in or you can go to a link on The Critical Thinking Co. provides and follow the links to access the resources. I love that the links are provided and that I know my children aren't going to pull up anything that is not appropriate for their minds and eyes to view.
This was really a blessing at the time this review came available. My son was really wanting to do more science. With everything packed in boxes and transiting between packing and moving twice in 2 months, and living at the grandparents' house for a while. It was impossible to do our usual science curriculum. This was great as it enabled me to have him do science and to learn the skills and techniques to find information online and in a controlled and safe atmosphere. My son loves workbooks and this was a good fit for his learning style. He likes to start from the beginning and work his way through a workbook. We started with Animals and worked around 4 days a week on the workbook. The times varied as some days the lessons were longer. Typically the lesson were 20-30 minutes a day. Some days we broke up the lessons in two days.
Not only was he learning research techniques online but, he was getting other skills like using a Venn diagram, charts, and he had to think to figure out the answers. He was learning some great skills in way fun learning environment. Some of the questions where hard and he had to problem solve to figure it out. I personally don't think this is an independent workbook. First, of all you want to make sure they are using the internet safely and they may need assistance with the problems.
My son really enjoyed using Surfing the Net: Science. He thought it was fun learning how to use the internet to do research. He thought the workbook was hard at times. It made him get creative with his writing and even to think outside of the box.
As a mom and teacher I liked that it challenged him to look for the information needed to complete the assignments.
I have been impressed with The Critical Thinking Co. they have all kinds of subjects for all grades.
Other Crew members reviewed different items so don't forget to stop by their blogs to see what they did.