I am a long time user of Demme Learning's Math-U-See in my homeschool. When a review came available for the Crew I knew I wanted to share my favorite math curriculum with other homeschoolers. I received access for a full year to the Delta Digital Packs. Delta is also available as a physical product. All the levels are available in physical and Digital Packs.
Demme Learning is family owned and operated business. They are based in Lancaster, Pennsylvania. They have been helping homeschoolers since 1990. Demme Learning produces several high quality learning resources for all ages from K-12.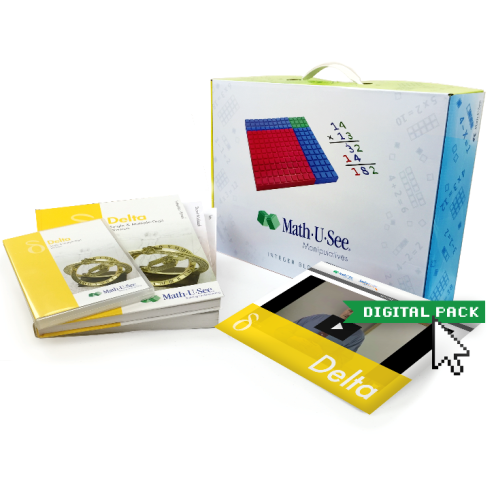 A year access to Delta Streaming Videos
Instruction Manual in a downloadable PDF
Digital online manipulative
Skip counting songs (MP3) and a PDF songbook
You will need to purchase the physical Delta Student Pack to complete the Delta books. The Student Pack is the student workbook and the student test book. The books are a paperback books with perforated pages.
Delta focuses on division for single and multiple-digit numbers, along with other math topics. Delta has 30 lessons along with a test after each unit. 4 unit test, and a final test.
At the beginning of each lesson we watch the video together. The videos are very concise and well done. Mr. Demme is a great teacher that explains math extremely well.
All the information needed to complete the worksheets is included in the lesson video. For a mom who doesn't have strong math skill I have learned new skills myself while watch the videos and teaching my children math.
After the video we start on the Student workbook which consist of around 6-8 worksheets. They are followed up by a test.
The Digital Packs are basically the same as the physical set with the DVD and the teacher manual's.
When you go to the website and sign in you go to your orders. Then find Digital orders. You go to a drop down menu and choose which level you need. One the right side of the screen you choose your lesson. You will also see other options and the digital manipulative.
The Digital Packs can be used on other devices. We just used just our desktop PC. The lesson videos can also go full screen for watching if needed. They are very easy to back up and replay a part if needed. Everything was very easy to use. Getting around the website was easy for me. It would have been easier for my son if it was a direct link and not going through the

account

page.
The Digital manipulative are the same as the physical blocks. They use the same color. The entire manipulative are included in this resource like the Basic Blocks, fraction overlays, and the Algebra/Decimal Inserts. You can even write out problems within the program. This was a very useful option for us. You can also purchase the app separately at the App Store.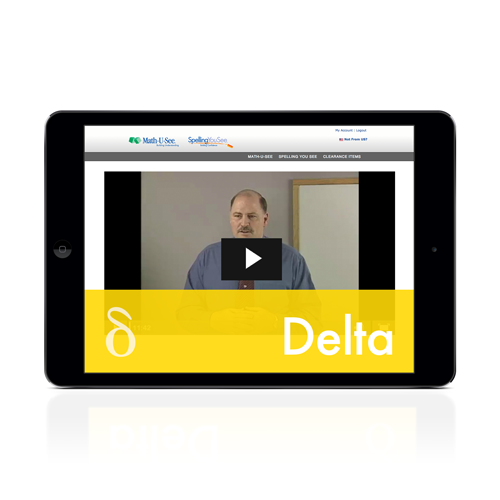 Pros for the Digital Packs
You can watch the videos anywhere you can access the internet.
The Digital Manipulative is online and they travel with you.
You can't lose the blocks or the DVD!
Cost is much less than the physical packs.
The program is good for as long as you have the DVD and manipulative. You just need to replace the Student Pack for each child.
Cons for the Digital Packs
Some kids like to touch, feel, and build with the blocks.
It's only good for a year.
I started using Demme Learning Math-U-See in my homeschool with the Primer after a year of teaching my daughter with special needs using another program. It was horrible and I wanted to quite homeschooling. We had lots of tears and we were both miserable. Then at the homeschool convention I was introduced to Demme Learning Math-U-See with her. It was a life saver.
With Little Man I started out with Demme Learning Math-U-See for two years and then he wanted to try something different. Math comes natural to him and he grasped everything fairly easy. Last year, we hit a stumbling block and I decided to go back to it at the start of this year. I am so glad that I did and both of us are much happier and he is much more content this time around.

I love that Demme Learning Math-U-See doesn't focus on grade levels. It uses a "Mastery Skill" approach. This means that you need to master each topic before going on to the next topic of the program. The program has a systematic approach that builds upon previous topics throughout the level.
This amazing math curriculum is not just for kids with special needs. It works well for those who are gifted, and those you don't have any learning issues. It's a well rounded program for all types of learners.
I love Demme Learning Math-U-See. I must confess that I prefer a physical copy over a Digital Packs. That's just me as I'm a hands on type of a gal who loves the feel of a physical product in my hand. I do have to admit that the Digital Packs would have been very useful when we spent every week at 7+ appointments for several years. Granted I have misplaced our DVD several times.
I would recommend this without a second thought. Both my children are very fond of the online manipulative. I plan on adding the app in my homeschool budget this year. The DVDs are nice that they go with you. We tend to be on the road a lot. I have to admit that the Digital Packs are very convenient.
Don't forget to see what others in the Crew have to say. They have been using different levels.