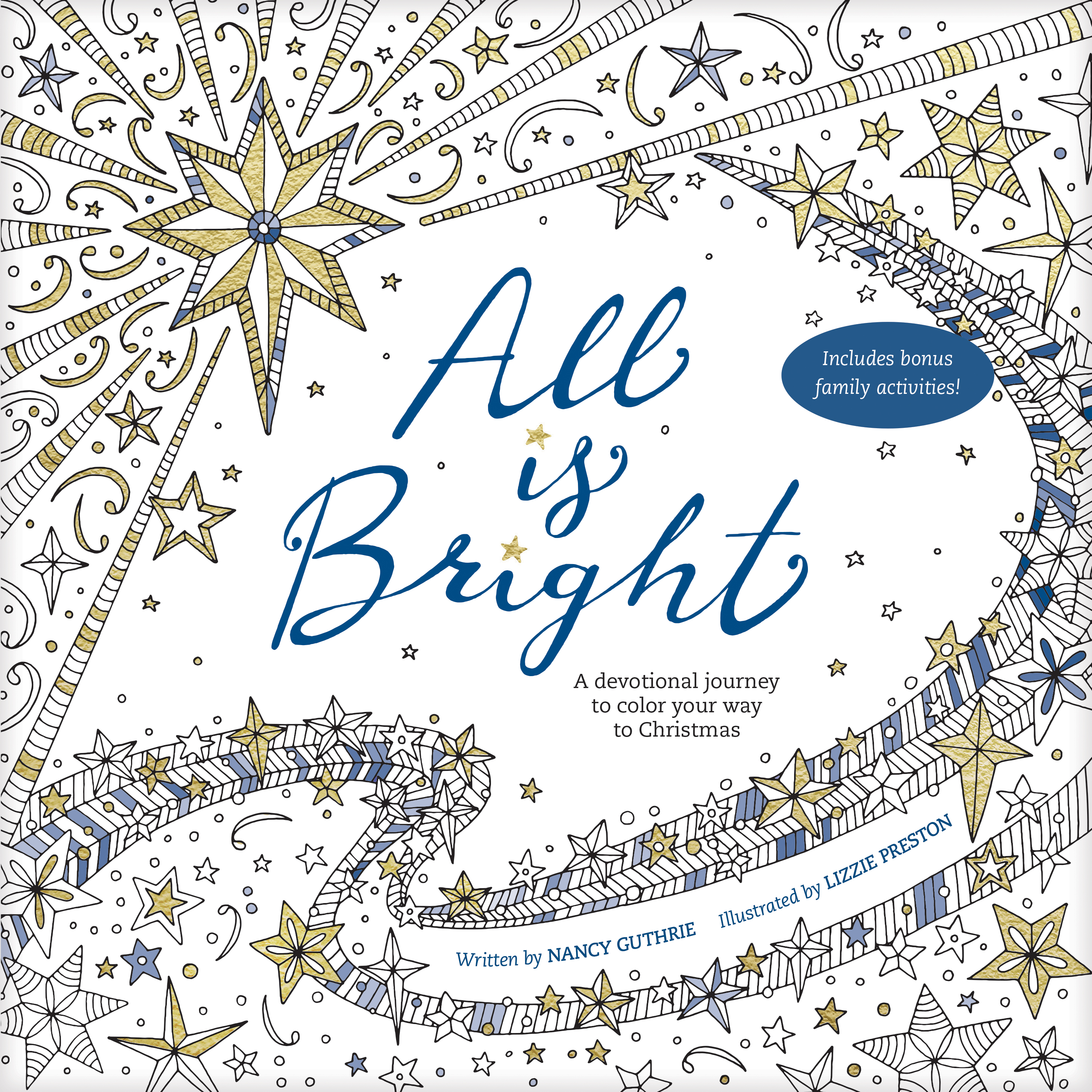 The perfect gift for the creatives and coloring-book lovers in your life! Includes bonus activities and kid-friendly coloring pages for the whole family!

This Christmas season, celebrate the birth of our Savior through beautiful design and devotion. Grab your colored pencils, cozy up with your favorite blanket and a cup of tea, and settle in for a night of peace and wonder with All Is Bright. For lovers of the Secret Garden and Enchanted Forest coloring books, All Is Bright is the perfect way to transform the Advent and Christmas seasons for your whole family, re-centering the holidays on the miracle of Jesus' birth. Combining 31 days of rich content by the beloved and inspirational Nancy Guthrie with intricate designs that will reconnect you with the heart of Christ, this coloring book devotional journey reminds us all of what the season really calls us to: worship.


There are so many wonderful choices now with adult coloring books on the market. They have a theme for everyone. This one has an amazing selection of pages to color your own master pieces.
This is part of Tyndales Living Expersion Collection. They have quite an assortment to choose from this growing collection.
This softcover book has 91 pages. There is 31 days that are used as a devotional that includes family activities and of course a coloring page that lead up to Christmas. The pages are a nice thickness that works on any type of medium you choose to color your pages with. The pages aren't perforated to take out of the book. The book would need to be pressed down to color some of the picture. The pages are black and white with a full coloring page. Several of the pages have some type of scripture reference on it. On the other side of the page is the devotional/activity portion.
I know some of my readers are probably scratching their heads with me reviewing a book around Christmas as I don't celebrate my Savoir Jesus birth at this time but, around the Feast of Tabernacle, which is currently happening now. Why-well I have a dear friend who would be delighted with this book and I thought it would be a wonderful gift for her to celebrate the holidays. She needs something to brighter up her

season.
Tyndale House Publishers has provided me with a complimentary copy of this book. In no way was I asked to give a positive review. I am disclosing this in accordance with the FTC guidelines. The opinions I have expressed are my own.