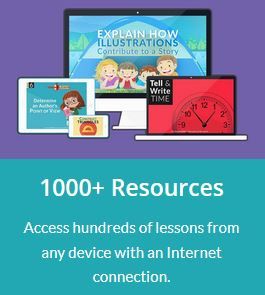 Educeri Lesson Subscription Service has ready to teach lesson for K-12.They have over 1,000 lessons for grades K-12. As far as subjects they have everything from language arts, math, history, art, PE, music, geography, and much more.
Educeri……Educeri a division of DataWORKS is a site for teachers that has all the material already set up and ready to present to your students. Several of the lessons have printouts also to hand outs for students which download as a PDF for printing.
Most of the lessons are aligned with the Common Core standards. I personally don't use Common Core material myself but, most of the lessons I felt comfortable with using in my homeschool. I would say the lessons are more of a traditional style of teaching. I felt it was designed more for a classroom setting but, it's also flexible enough to use in a homeschool setting.
This is also not from a Biblical Worldview but, a secular. The only thing that I seen that some may have issues with if you want to stay away from certain doctrine was in the science area.
The lessons are pretty in-debt with the subjects and most of them are a complete lesson on that topic. There are some that are not as in depth in the younger grades. I felt they give enough information for that age range. There are lots of teacher tips throughout and some vocabulary also.
Navigating the site is very easy once you are logged in. You can choose to search by grade or subjects. One you find what you are looking for you just click on it and it will open up in another screen. If there is a print out you will see immediately that one is available for that particle lesson.
The lessons are presented in a slide show format. You have to click on the lessons to go to the next page. You will need to have Wi-Fi access to use the lessons in your classroom.
You basically teach the lessons that are on the screen by reading the information to your student. The pages are numbered and you simply click through the pages which are numbered.
As far as the handouts you could work on the handout outs during the lessons or after you are done with the lessons.
Some of the lessons are longer than others. It would be easy to expand the lessons to several days or in one sitting with older kids.
How Did I use this in my Homes

chool?
After looking around I stayed in the 5th grade area and I also ventured out in a few

other grade levels

to teach my kids. The younger grades by far had the most variety of topics.
Some of the subjects I used with my 10 year old son who is in 5th grade. Other lessons I combined with my almost 14 year old with severe learning

disabilities

.
We went through, "Id
entify the State Ca

pitals of the United States".
I felt
that the information was very good for the age range and I liked how every-time you switched pages the screen would update the information. There are comprehensive questions that let me see that my kids were grasping the

information

.
I also liked that all the planning was done for me. It was well organized and planned out. All I had to do was to present

the information to my kids.
The PDF printout for the, "Use a Thesauruses to

Determine

Precise W

ords".
This is a topic

that

we already have been going over this year.

I loved that I had some

good reinforcement for our studies. I loved the printou

t on this topic.
We went through

a few

other lessons also

.
Typically

we spent a few days on one topic and some where longer than others.
Overall, this has been a good experience for my family. I used this as a supplement to our current curri

culum.
This isn't usually my teaching style so I got a few eye rolls at first. I think my kids thought that it would be a video presentation. They enjoyed the information and the best part is that they learned something new and got reinforcement on other

skills.
We have been busy with a lot of outside activities so the change of pace and

prepared lessons have been nice.

This has been a

good source for my homeschool.
Social Media Links:

Facebook: https://www.facebook.com/educeri/
Twitter: https://twitter.com/teacheduceri @educeri
Pinterest: https://www.pinterest.com/Educeri/

Don't forget to check out what the rest of The Homeschool Review Crew has to say about Educeri..... Educeri a division ofDataWORKS!