20 March 2017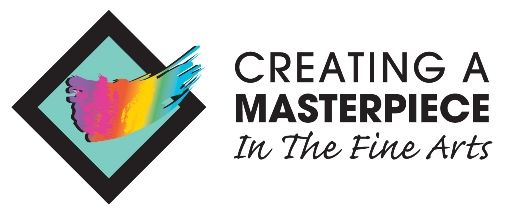 For several years at our homeschool convention Creating a Masterpiece has been a vendor at our local convention. I have definitely looked at it several times. Art is just one of those subjects that I shy away from even though we all love art. I was really excited when Creating a Masterpiece came up for a review. I received the Monthly Plan for 6 months to all the levels.
This is an extraordinary online art program that teaches art step by step. I don't have to worry about my lack of ability teaching art. I have no excuse as I don't have to teach it myself and I can participate in creating my own masterpieces. I even have a lot of art supplies on hand.
All I need to do is have access to the internet. All the lessons are taught for you. There is a variety of projects and mediums for everyone. Creating a Masterpiece recommends that you use higher quality materials for the projects. There is a link provided to an art supplier for the individual materials needed to complete the project.
There are lessons for all age's children and even children as young as 4 and 5 can create some amazing art masterpieces with this program. All of the lessons are taught by a master artist Sharon Hofer. She does a wonderful job introducing new mediums and even shares some of her techniques with her students. Currently, they have over 144 projects throughout all the levels and more are being added.
There are several levels available. Most of the Levels are broken up in smaller segments from 3 to 7 videos. The average lessons vary in time depending on project or even the child. Sharon recommends you not to rush to get the best results. The first 4 levels will average in time to 45 minutes to 1 ½ to complete a project. While the other levels can be a little more time wise. Most projects can be completed in a week or less.
I would recommend that you read the tips that are provided for each lesson prior to each lesson. Plan ahead in advance so you can order all the materials prior to starting a lesson. I planned for a few weeks in advance. I checked my supplies and ordered a few items I was low on or didn't have. I was ready to go when we started the project. Plan to get messy especially for younger children with certain mediums.
The lessons are shorter. Sharon goes over some basic foundational art techniques. There is a plethora of art media introduced from watercolors, oil pastels, gouache, charcoal, an ink. The lessons are broken down in several lessons for beginners and younger children.
In the art gallery online there are some amazing projects done with kids as young as 4 in this level. I guess I have no excuse being able to do art myself. The foundations of soft pastels, pencil drawings, silk dying, acrylic painting, earthenware sculpture, and colored pencils are covered.
This level is for a student who has some art instruction. It will go over some of the mediums taught in the other levels and incorporate new mediums into the program. Some of the new instruction in this level will teach block printing, basic glass mosaic, stippling in ink, acrylics, sculptures, and soft pastels.
More advanced skill levels with glass mosaic, three dimensional acrylic painting, silk painting. This will build upon previous learned techniques in more advanced masterpieces.
Color theory is taught at a more advanced level. Watercolor pencils, learning to work with copper, oil pastels, a new way of working with silk dyes.
This level is intended for students looking to fine tune your artistic ability. One of drawing concepts works on the fine details of distinguish some differnences in the gender and age of a person's face while sketching it. Carving with foam and making it look like wood. More ink, watercolor techniques are taught. A new medium with Conte' Crayons is taught. Lessons are broken up in smaller portions with an average up to 1 ½.
This is the newest addition to Creating a Masterpiece. This is a hands-on-approach to learning about the life of artist and the era that they lived in. You will create your own masterpiece of the era in history. More projects will be added in this level. The projects will vary in skill level. Some students 6-9 will be able to complete some of the projects. Older students will be able to do all the projects.
How Did I Use Creating a Masterpiece in My Homeschool?
I have to say that this is an amazing art instruction program. I have enjoyed doing these projects myself with both of my kids. My daughter had difficulties with some of the projects due to her disabilities and her arthritis has been attacking her hands and wrist recently. She did what she could and enjoyed getting her hands dirty.
We have done most of our projects in the Beginning Level, Level 1, Level 2, and one in Level 3. This has been so much fun and all of us have learned so much with art and have explored mediums that we haven't used a lot.
Little Man created this using one of his photos he took for photography.
My son liked to go outside of the projects and add his own touch to the projects. One project was in the Beginners Level- Lessons in Watercolor: African Sunset. He liked the blowing in the straw effect to make the trees. He had a photo that he had taken in photography of a sunset with trees looking like a silhouette. He copied his photo to make the project. I was impressed with how it came out. Now, I just need to convince him to work with pastels again. He had someone when he was much younger use pastels on his face. Let's just say it didn't come out easily. It was an extreme art masterpiece that left his face stained for awhile. I think he would really enjoy working with pastels. I plan on doing a project myself with it and maybe he will decide that he likes pastels again.
I plan on continue using this in our homeschool and next time at the convention I won't shy away from it to add to my homeschool budget. This is really worth it. It's a top notch online art program.
Other members of the Homeschool Review Crew have been reviewing this. Stop by and see what masterpieces they have created.
Social Media Links:


Facebook: https://www.facebook.com/createamasterpiece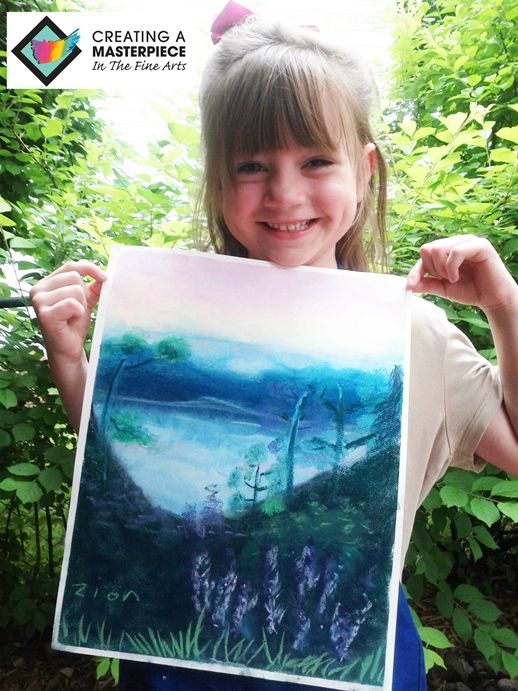 #hsreviews #artinstruction #homeschoolart #onlineartprogram