Are you familiar with Lamplighter Publishing? Their mission states: They aim to develop "Christlike character one story at a time." The Secret Bridge is one of those amazing stories that truly are building a Christlike character one story at time woven within its pages. I received a physical copy of the book: The Secret Bridge.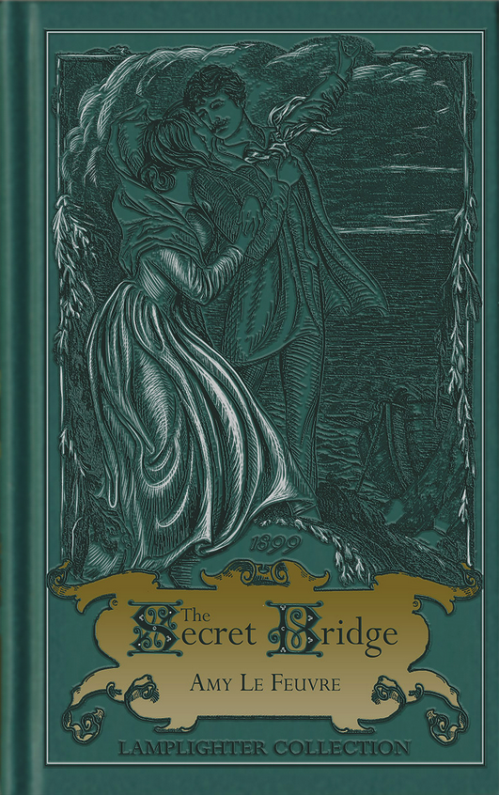 The Secret Bridge is an absolutely stunning book to look at and truly a treasure to adorn your bookshelf. Trust me the words are even more stunning! The book cover is a leather-toned embossed hardcover book. The rich sea-foam blue with a mixture of white color is just lovely. The title is surrounded by a gold plaque. The book spine is also attractive. The book looks like one of those old books that you see in antique book stores. The words within the pages were penned from author Amy Le Feuvre back in 1899 that has been published in one of the new publications of Lamplighter Publishing.
The story is recommended for ages 12-99! The book has 272 pages. The pages are printed on quality paper. The book binding is also done with top notch quality.
The story has 20 Chapters
Binding: Leather-tone embossed Hardcover
Publisher: Lamplighter Publishing
The main characters are Bridget Channing and Godfrey Bullingham. You'll also meet other intriguing characters.
The story is a love story and I see it as our relationship with our Lord and Savior. We are His bride waiting for Him take us home. As time pass our love and appreciate for our bridegroom grows the more we get to know Him. A beautiful quote from Bridget in the book, "I must acquaint myself with Him first," she thought, "Before I can love Him and follow Him." Bridget finds this path is not only true of her relationship with God but, with her husband Godfrey.
Bridget Channing is coming to England by ship from Ceylon to live with her only living relative her uncle after her father passed away. Once she arrives in England she is faced with another calamity. Her Uncle has passed away three weeks ago and her uncle's landlady of 15 years was left all of his money and personal belongings to her. She wasn't about to care for Bridget. Bridget was almost penniless without knowing anyone in England other than Godfrey.

Bridget was a unique lady during her time period. She knew algebra, geology, botany, astronomy, and several languages. She loves to read and was an excellent wood carver.

Godfrey comes from an old family with money. He is a compassionate fellow. Not one to jump into things quickly. Something about Bridget steals his heart and he asks for her hand in marriage. He has to leave England immediate following their marriage for a year. Bridget must keep her marriage a secret from Godfrey's family while he is away.
She is made aware of an old family feud that dates back for centuries between the Bullingham and Fitzroy family. The Fitzroy family comes into her life unexpectedly and she wants to stay impartial about the past of the two families' history.
During the year that her husband is absent Bridget searches for God and she also comes across some of her own family history that could complicated things.
I'm not going to give away the story because, I hate book spoilers. Hopefully, I will give you enough to want to read it for yourself.
How did I use The Secret Bridge in my homeschool?
We have been enjoying this story as a read out loud in our homeschool. I have basically been reading a chapter or two on school days with my 11 year old son and 14 year old daughter. I have had to read ahead at nighttime by myself so I could finish this book in time for the review.
Both of my kids have enjoyed the story. The story wasn't predicable to them and they couldn't wait till the next day for me to continue reading. It has defiantly enhanced all of our vocabulary due to the speech during the era. We've had to look up some of the words if we didn't know it. I could figure out the words I didn't know by the context of the sentence. The kids couldn't. We put our dictionary skills to good use online. It created a lot of discussion.
This last year at the homeschool convention we had
Lamplighter Publishing as a vendor there. We picked up a few books and audio books for next year. Now my kids are excited
about the books and can't wait to get started.
If you're not familiar with Lamplighter Publishing then I encourage you to stop by there website. They have an amazing selection of books and audio books that are suitable for all ages. They have a stunning collection of timeless classical books that are Christ centered.
Other Homeschool Review Crew are reading this book. Make it a point to stop by their blogs and see what they are saying about The Secret Bridge.

Hashtags

: #hsreviews #classicliterature #lamplighter