My family has been using CTCMath off and on since 2014. I was delighted to be able to receive a one year subscription of the Family Membership for my homeschool.
Right now
CTCMath has 60% off + 6 bonus months for homeschoolers.
Anyone who has followed my blog knows that math is not my favorite subject. I have children who are especially good in math and like it. I'm very fortunate that I have a husband who excels in math and he gladly steps in to help the kids out.
CTCMath was created by a homeschool father Pat Murray who was a highschool teacher prior to CTCMath.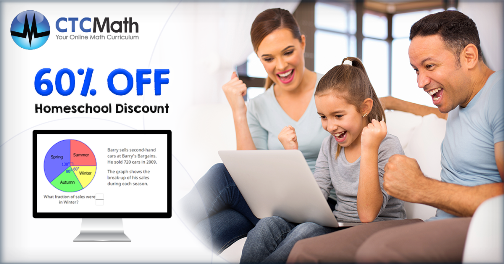 This is an online math program for grades K-12. If you're not sure where to start your child you can have them take a diagnostic test to determine that. They offer a standard and comprehensive test for K-6 and you will receive a detailed report also. This will help you determine what level of mastery is in each area.
CTCMath does not follow
the Common Core concepts as they believe math should be taught the traditional way.
CTCMath can be used as a full curriculum for grades K-8 or as a supplement to any math curriculum you are using. CTCMath also makes a great supplement for Algebra I and II, Geometry, Pre-Calculus, Calculus, and Trigonometry.
I like the fact that you have access to all the levels and your membership isn't tied to one level only. I know my children are all over the board in the math skills in some topics.
After you determine what grade you want to start in you are ready to go. One of my favorite features about CTCMath is that if your child wants explore different grade they can just click on the grade without having to go into your parent account to reset anything. Or if they need to move up or down in a certain topic its one easy click of the mouse.

It's easy to explore other levels! This is extremely important to me as I have a special needs daughter whose abilities in math vary in many topics drastically. I really appreciate the fact that the whole website is extremely easy to navigate it.
The streaming videos are 5-10 minutes. I know that may seem crazy for a math program and you may be wondering how this can be a full curriculum. Trust me this is math taught at its finest. There's no fluff, no cartoon animations, and no games that you earn points to go play in some virtual store for your virtual world. It's straight forward learning. They have 1,400+ videos available.
You are able to hit pause while watching the video or you can go back and listen to the video again. The questions vary from 10(short) - 20 (standard) to 40 (comprehensive).
Each level is broken down in sub-topics and each sub-topic is broken down further in smaller lessons. I like that you can really evaluate each area that they are learning. This lets me see which concepts my child really needs help in or what they are mastering in math.
As a parent I can receive weekly progress reports that are sent directly to your email. However you can review the reports anytime you need to from your parent login. You can also print out the results. You can have your child print out their results after each session also.
If you need or want hard copies you can also print off a sheet that shows you all the questions. This is an amazing feature for an online program.
You can also download a comprehensive checklist for every grade up to 6th grade.
They have three games Speed Drills, Times Table, and Swap Pieces that are available.
Speed Drill is for going over the math facts for addition, subtraction, multiplication, and division. There are also four levels to that you can choice. You timed to see how quick you answer the problems.
The Times Table is a timed multiplication facts for 1-12.
Swap Pieces is a puzzle that needs to be solved. It reminds me of those critical thinking games. My son is still trying to figure out how to beat this game. I think he is overthinking it.
If you have an award oriented child they get medals based off their score. The medals are bronze, silver, gold, and platinum. My kids like to compete with each other and see who gets the best medal. You can also print of certificates.
My son just realized that he can customize his page. He's pretty sure that this is new and that it wasn't an option before.
You will need to have high speed internet for this Math Curriculum. Your kids will need some basic knowledge of working a mouse. This can be used also on tablet platforms now. You will need to set it up for access on tablets.
The best part is that you can sign up for a free trial to see how you like the program. You don't even need to add a credit card for the free trial.
How Did I Use CTCMath in my Homeschool?
My son is in 6th grade and has his dad's math aptitude. He wanted to finish up some things he didn't complete in 5th grade. That's his personality to see that he completes a task before he moves to far ahead. He also will do some topics in higher grades this year. He likes all the math games and plays with them everyday.
My daughter is going back over some 3rd grade topics as she regresses in skills often. Then after that she will work anywhere from 4th to 5th grade. My daughter does some of the math games but, she doesn't do well with timed games so I honestly don't encourage her to do them as it frustrates her too much.
I use CTCMath 5 days a week as a supplement with another curriculum. I feel that it fills in the gaps for our current math curriculum. The best part is that my kids have never complained about CTCMath being on their schedule.
I highly recommend CTCMath but, don't just take my word for it as you can stop by other reviews to see what they have to say.
CTCMath has 60% off + 6 bonus months for homeschoolers.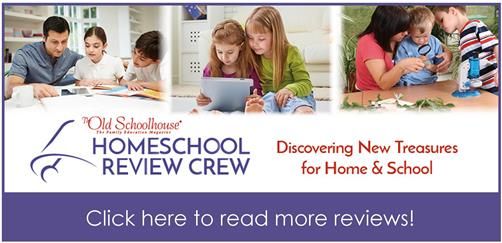 CTCMath (US and Canda)

Facebook: https://www.facebook.com/ctcmath?ref=hl
Twitter: https://twitter.com/ctcmathofficial
Periscope: https://www.periscope.tv/ctcmathofficial
Pinterest: https://au.pinterest.com/ctcmath/
Youtube: https://www.youtube.com/channel/UCWn5e6974bpIEAe46VnovZw

Maths Online (Australia Only)

Facebook: https://www.facebook.com/mathsonline.com.au
Youtube: https://www.youtube.com/user/MathsOnlineAU