Grammar is a hard subject for me and is not something I enjoy overall. The reality is that I don't feel confident teaching grammar to my children. I do have to say that while teaching my children I have been relearning grammar and have learned to appreciation grammar more. What it really boils down to is that as a child I never got a solid foundation in grammar.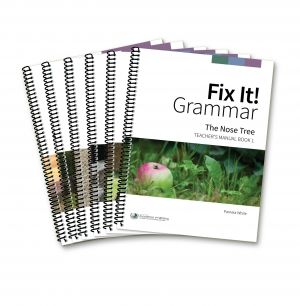 IEW recommend that you start in grades 3-12. It is recommended that you start in Book 1 to build a solid foundation. However you can look at the placement test and a Webinar to decide what is best for your children. If your child has a foundation in grammar then they will move quickly through the series or you can place them at a different level. There are 6 different books in the Fix-It! Grammar series.
The Teachers Manual clearly guides you through the program that is a 33 weeks of grammar instruction. They recommend that you do 15 minutes a day, four days a week. You will need to have a binder with four tabs for each student. For those of us who don't have a good grasp of grammar and editing you don't need to look far to see if they are doing it correctly as each lesson has an answer key along with notes to clarify it.
Every week I see a preview of the week's lessons along with instructions.
The
Fix-It! Grammar: The Nose Tree Book 1 Student Book is also a soft bound spiral workbook broken down by weeks and days. Included in the book are a set of 24 flashcards of the grammar rules. The flash cards are a sturdy card-stock. The student book also has a glossary in it.
Fix-It! Grammar uses classical fictional stories (abridged) to teach grammar. The lessons are brief to help build those grammar and writing skills. New skills are taught weekly. The lessons gradually build on one another and progressing slowly to make it more challenging.
How did I use Fix-It! Grammar: The Nose Tree Book 1 in my homeschool?
I used this with my 8 year old son who is in grade 3. He is my child who doesn't enjoy writing or grammar. I was extremely happy that the lessons are short to keep his attention. We used this 4 times a week and the lessons took him around 15-20 minutes to complete. The time depended on whether or not I could read his handwriting.
It starts with me reading the lesson to Little Man. This is where he is introduced to a grammar concept. He had one sentence to work on daily. He would then correct any mistakes in the sentences and identify the learned grammar concepts. You label the grammar notations or abbreviations which are letters like "n" for noun or "adj" for adjective.
Each week you are introduced to new vocabulary words which Little Man added to his student binder and he used as a dictionary to help him remember those new vocabulary words. The vocabulary words are in bold print.
He then would write his sentence in his notebook. Each day you will continue with the same pattern. The sentences are from the story of, "The Nose Tree."
Little Man actually liked Fix-It! Grammar: The Nose Tree Book 1. This honestly surprised me as this is grammar and writing! I was one happy mamma.
What did I think of

the Fix-It! Grammar: The Nose Tree Book 1?
I like the shorter lesson that don't seem so overwhelming to both my son and even to me. I felt that it was enough to grasp and retain the information easily.
The program is so easy to understand. I like how it is in story format which is unique. I don't know of any other program that does this.
It includes vocabulary, grammar, punctuation, spelling corrections, editing, writing, and copy work. This is a complete language arts program.
This isn't a program that you give to your child to do independently. At the same time Fix-It! Grammar: The Nose Tree Book 1 in my opinion is something that the teacher guides the student in and then lets them work on being independent. I am still involved and at the same time they are building to be more independent. It's not a program that is so teacher intensive that it is overwhelming. It's very gentle with my involvement that I don't feel like I am breathing down my son's neck every step in the program.
Fix-It! Grammar required
minimum set up on my end. Which includes getting the binder ready before you begin or copy pages from the download. I can glance at the lesson quickly before we begin.
You can download the book once you purchase it and use it for your other children. I love it when I can do that as it saves me money and it also determines whether or not I purchase a particular curriculum.
I honestly can't think of anything that I disliked about Fix-It! Grammar: The Nose Tree Book 1. My son liked it and didn't complain overall. Hey, he's a boy and would rather be off exploring or creating his own adventure. Once we started the lesson he was willing to do it without complaining.
I found a complete grammar program that is a good fit for my family. I will be investing in the other levels in the future. I also think it would work for my 11 year old with learning disabilities and I will be downloading the lesson for her here soon.
You can follow IEW on this social links: