USAopoly has been around since 1994 and has made several licensed popular board games. They also created their own original board games.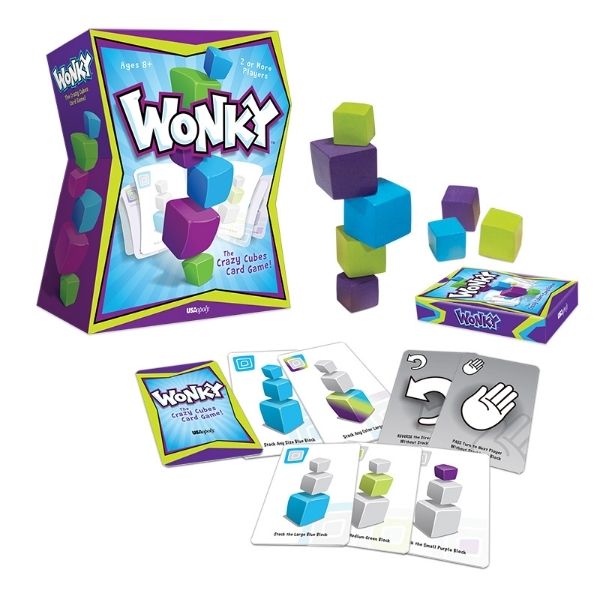 Wonky:The Crazy Cubes Card Game is a card game that you have to try and build a tower with blocks that aren't quite square with the intent of making your opponent tumble the tower of blocks and to get rid of all of your cards without toppling the tower yourself.
The blocks are in three different colors and sizes. They are curved and rounded on several sides. Stacking the blocks takes a steady hand and even some planning on how to place your blocks.
Wonky: The Crazy Cubes Card Game is for ages 8 and up. You need two or more players. The average time play varies. The more we played it the better we got at stacking the off shaped blocks which each game averages from 15-25 minutes.
Each player starts with a number of cards that has pictures of the blocks which will instruct you with how you play your hand. Some of them tell you a color and size of block that you have to play. Some of the cards let you stack any color or size. While other cards will reverse the order of play or make the next player draw more cards, or to make your opponent lose a turn. If you topple the tower you draw three cards. If you don't have a card for the available blocks to use you keep drawing a card until you have one.
Wonky: The Crazy Cubes Card Game comes with 9 Wonky blocks, 54 playing cards, drawstring storage bag, and instructions. Which the storage bag makes this an easy game to travel with.
Tapple:Fast Word Fun for Everyone is a faced paced word game that requires no spelling just split second thinking to match an available letter while you are trying to beat the timer. The object is to be the first player to collect three category cards to win.
The Tapple wheel has 20 large plastic taps with the alphabet. Not all the letters are available as it has no q,u,v,x,y, or z on the device. In the center of the wheel is a large timer button.
On each of the cards which on each card there are 4 categories to choose from. They are colored coded for ease of categories. The blue/white side has an easier selection for younger players. The red/yellow side is for more advance players.
The players takes a category card and taps the timer button. You have 10 seconds to call out an answer and press the letter which your answer starts out with. After you press your letter you tap the timer button to stop the timer.
Players get out when they fail to answer a correct response and your timer goes off or an unacceptable answer. You continue to play until there is only one player left. If the game goes in overtime an all the letters are used with more than one player you simply reset the wheel and it get harder as the player has to answer two answers and two letters within ten seconds!
This is intended for ages 8 and up. For 2 to 8 players. The website has some interesting adaptations to using it in an educational setting or for a party.
Tapple: Fast Word Fun for Everyone comes with the Tapple wheel, 36 playing cards which has 144 categories in all, and instructions. You will need 2 AA batteries which are not included. The wheel itself has a storage in the back to store the playing cards.
How did we use both games?
The games couldn't have come at a better time for my family. As many of my readers know that we are in the midst of moving. Except we have to move twice! Once in my in-laws home until we move into our new home in mid-October. While we were at our old house and toys and the kids' stuff was getting put in boxes we had new games to try out!
Both games were extremely easy to learn quickly. They don't have a lot of pieces that can be lost. The best part was they both are a lot of fun.
For Tapple: Fast Word Fun for Everyone we had to adjust the time for Bug who turns 13 next month and has processing disorder and several disabilities. She just doesn't think fast to blurt out a word and then to hit the letter and timer. We usually gave her 20 seconds and some categories we gave her 30 seconds.
Tapple: Fast Word Fun for Everyone was actually Little Man's who is 9 favorite game out of both of them. We could get pretty silly with some of our answers and lots of surprises with what they blurted out. This actually surprised me as I thought he would like stacking blocks and watching them come crashing down better. For the rest of the family we couldn't decide which game we liked the best!