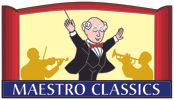 I was excited to introduce my children to another wonderful musical story from Maestro Classics. Even my kids got excited when I told them that we would be reviewing Peter and the Wolf. They couldn't wait to listen to this delightful story. I received a physical copy but it's also available to downloadable MP3.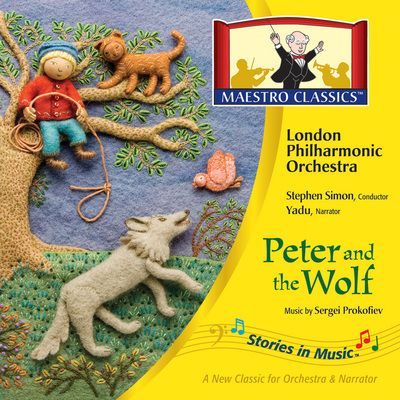 Last year my family got our first introduction to Maestro Classics when we were able to review two other titles from them. Since then I have purchased other titles for my kids. I think it's important to expose my kids to all kinds of subjects even if it's something that I am clueless about. I have no musical abilities myself. I think there is hope for my kids in that area.
As a child I remember hearing the story of Peter and the Wolf. I love being able to introduce my kids to stories that I have fond memories from my childhood. It was a school play with a recording of the music in the back ground. I heard the musical story at other times also. It's a story that I remember clearly. Of course, I knew nothing of the history of the story or the composer. The composer is Sergei Prokofiev (1891-1953) who started at the age of 5! This fact amazed my kids and was talked about often.
Performed by the London Philharmonic Orchestra. The conductor is Stephen Simon and the stories narrator is Yadu. With Trio Voronezh (Tr. 3 &8) also preforming. The total CD running time for Peter and the Wolf is 68.16 minutes.
The story is broken down in eight sections:
3. About the Composer: Sergei Prokofiev
6. Peter and the Wolf (Instrumental)
7. Invitation to Grandfather's Party
Prokofiev wrote this story for children and at that time it wasn't very common to do so. He makes the story very active and changing throughout to engage children and adults alike. Each character is assigned an instrument when they come on scene. My son really like this when a new character would appear. He would try to mimic it. It was fun watching him get so involved in the story.
If you don't know the story then I will give you a quick overview. Peter is a young boy disobeys his grandfather when he goes over the garden wall where there is a wolf that comes out of the forest. With the help of a bird, duck, and a cat. They help Peter capture the bad wolf. Along comes a hunter who wants to kill the wolf. Peter has other plans for the wolf to live at the zoo. It's a charming story that comes alive with the musical scores.
Along with the CD there is a Study Guide inside the case. It consist of 24 pages with varies activities. Like matching the musical instrument to the character, short biography of Prokofiev, dot to dots, word search, and much more.
How did I use Peter and the Wolf in my homeschool?
We listened to this several times in the van. At the time we were living at the grandparents' house and the van just seemed to be the easiest place that we could focus on the story without other distractions. Not my preferred way as I usually do it both in the van and at home. It was requested several times from both of my kids while we traveled to our destinations. My son can't wait until we get our musical instruments unpacked in our new home and to listen to the story again with his instruments. For the Study Guide we basically just looked over it this time around until we can better utilize it in the future. Little Man had the study guide in his hand while we enjoyed the story. He told me. "That he was doing it mentally"! You can also download a free curriculum guide that has art projects and music lessons in a unit study. I printed it out to use when we get settled into our new home.
Sorry, I didn't get no pictures with this one. It wouldn't have been the best pictures taking them in the van or safe either!
This is a wonderful way to introduce your kids to the orchestra, classical music, and all types of instruments. If you have never listened to the musical stories from Maestro Classics then head on over and get yourself a copy. Your kids will be delighted when they listen to them.
Stop by and see what the other Crew members think and some reviewed another title.