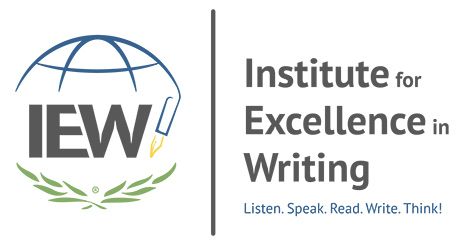 What surprises me more is that when my kids recognize Andrew Pudewa's voice they get excited. All of sudden both kids quite down and listen intently when they hear Andrew Pudewa.
I received a physical copy of Linguistic Development through Poetry Memorization Teacher's Guide, PDF Student Book,

Poetry CD, A DVD of Andrew Pudewa's conference talk on Nurturing Competent Communicators, and 7 Audio MP3 downloads. The set usually only includes the PDF version of the Student Book. IEW was extremely generous to bless the Crew with a physical copy of the Student Book

also.

I really appreciate that IEW has went above and beyond in sending something extra.
Why memorize poems and speeches?
It just seems like more busy work to add to an already busy day. Honestly, a few years ago this was my view. The longer I homeschool the more I realize that learning math facts (which is important) doesn't enrich our vocabulary, our speaking, and to be more effective communicators. This was at the same time Little Man gave his 4-H Presentation and he spoke so fast. His head was glued to the paper. No eye contact, not speaking loudly and clearly, and honestly I don't think no one knew what he was talking about.
Mr. Pudewa basically states in a nutshell that poetry is an effective method for "creating a large database in your kid's brain of sophisticated language patterns." Poetry is easy to memorize, and exposing them to vocabulary they may not be exposed to in every day reading. Poetry is full of imagery, stunning language, and sophisticated sentence structures.
This last year Little Man had lots of questions about poetry and wanted to understand it more. Yikes, was my first thought. Poetry has never been something that I understood. I just didn't know where to start. Our Language Arts program had a short segment on it. The lessons all tended to center on writing your own poems. It was a tearful event on both ends.
Once my son started memorizing poems he was able to recognize the different types and layout of them. It just clicked with him. Writing his own poems was easier also. Wow, it was that simple. That may not be the case with everyone but, it was for him.
We have read poetry books all the time in our school and have for years we just never memorized them. Having a rich variety of poems and speeches in one place makes it easier. I know a few of the more popular poetry authors. Searching them out was another matter all together. Linguistic Development through Poetry Memorization has been a blessing for me as the variety is vast and intriguing.
Linguistic Development through Poetry Memorization Teacher's Guide
is a soft bound spiral book. There are 200 pages. All the poems and speeches that are in the Student Book are included in the Teacher's Guide. The information provided in the Teacher's Guide is amazing and is very concise explaining why memorization is so beneficial for your children's education. It was very enlightening and encouraging to me after reading this information. Interesting biographies on varies authors. The selection of poems and speeches are from some well known people like Robert Frost, Henry Wadsworth Longfellow, Christina Rossetti, Shakespeare, and a nice variety of ones that I didn't recognize.
Prerequisites for Effective Communication
Mastery Learning-What is it?
How This Program is Set Up
Appendix 3: Optional Lesson Enhancements
Linguistic Development through Poetry Memorization Student Book
is also a soft bound spiral bound book (
in the set it's a downloadable eBook and for a physical copy you will need to purchase it separately.

) with 172 pages and 96 poems and speeches. There are memory charts to track what you have memorized, and certificates after each level. A reminder of reviewing prior memorizations to help you retain all the hard work you put into committing them to memory.
Poetry CD
comes in a gorgeous case that my son thinks it's very sophisticating looking. There are 5 CDs along with a DVD of Nurturing Competent Communicators. All the poetry and speeches are read by Andrew Pudewa. Mr. Pudewa has such flair that it makes his reciting the material delightful. Having the kids hear him read the material inspires my kids to show the passion in their reading.
Audio MP3
downloads is a total of 7. I have heard several of these prior to this review.
Nurturing Competent Communicators
Mastery Learning, Ability Development, and Individualized Education
Ten Thousand Times and Then Begins Understanding
If you have never heard Mr. Pudewa speak at a conference I would recommend you go IEW website and download some of his talks. There are several free resources. Better yet, if he ever comes to your area attend one of his workshops. Last year he was a speaker at our conference and it was inspiring and informative.
How did I use this in my homeschool?
I spent the first week reading the information in the Teachers Guide and listening to the MP3 downloads that I haven't heard yet. I had heard Nurturing Competent Communicators prior and decided to listen to it again. This time around I picked up information that I didn't catch the first time I heard it.
At the beginning of the week I started out reading a poem to my son (10) and my daughter (13) unknowing to her was soaking it in like a sponge. Which this was my intent of her learning the poems as he was doing it. I was hoping for a bit of sibling rivalry and her wanting to repeat them after her brother did his. Afterwards, we would listen to the CD. Little Man would read the text. He worked on pausing, slowing his speech down, and adding a bit of flair while talking. My son tends to be on the bit silly side and likes to put on a show and he did. Once a week he would recite his poems to his father. All the while my daughter with severe learning disability wanted to outdo her brother! She did an amazing job. We would review all the poems learned once a week. Little Man has learned seven poems and my daughter is on three.
Let me tell you that he got to practice speaking twice during the last few weeks. The first event was at our congregation Passover Seder when he read some of the Four Questions. He read so clearly. He paused and looked out to the audience several times. It was a large venue of 360+ people. My husband and I had several comments on his speaking ability. Many thought he was a natural.
The next time was his yearly 4-H presentation. It was a complete turnaround of his last presentation. First, off it was raining and we were in a metal building which the rain sounding like hail. He spoke loudly and clearly. He made eye contact and held up his items for his presentation and would demonstrate the items. My husband and I were grinning from ear to ear.
The biggest surprise was the feedback. Several of the students commented on how well he did and that he will be a great debater in high school. One girl said, "I would have loved to have such ability at your age speaking." (I learned that several of the older kids are in debate and public speaking class afterwards.) Another comment was a public school teacher that asked how I taught him to speak so eloquently and with such confidence!
The next day I asked him, "What changed with your speaking?" He said, "Mom Mr. Pudewa pauses, has emotions, and speaks clearly and I wanted to talk like him." He also mentioned that while learning the poems he wasn't afraid of speaking out loud anymore.
For my family this was a success and for my son it was a lesson he learned quickly. This has exceeded my expectations.
I look forward to using
Linguistic Development through Poetry Memorization over the next few years.
Don't forget to see what others from the TOS Crew have to say.