It never fails every year I find I need other resources to help supplement our curriculum. I like it when I can find a lot of resources in one place. Not to mention at one price for everything. Recently, that one place has been CHSH-Teach.com . I received an annual subscription to their Digital Product CHSH Download Club. Membership can be purchased for a year for $25.00 or a Lifetime membership of $99.00.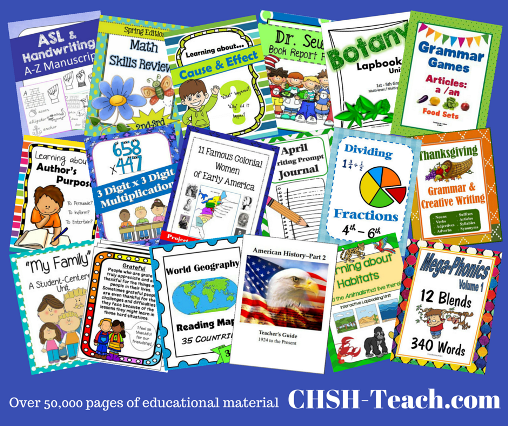 CHSH-Teach.com acronym stands for The Christian Homeschool Hub. Amazingly there are over 50,000 pages of educational materials for K-12 to download and print on one site.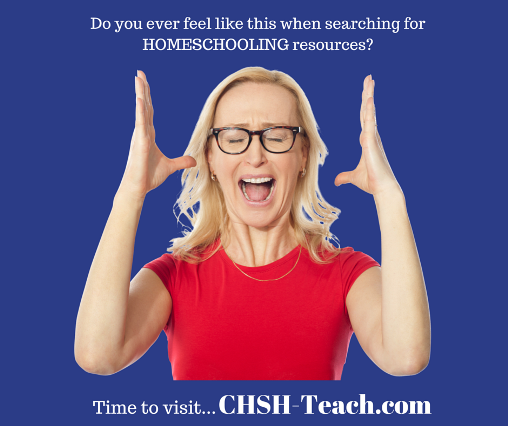 CHSH-Teach.com

is created by Lynda Ackert, a former public teacher turned homeschool mom.
One feature that I like is the home page has a "This Day in History Calendar".

I have always wanted to incorporate something like this in our daily homeschool. I'm not there yet, just from the front page I could easily shout this information out.
From there you go up to the Download Club tab and click on the, "search for download" from the drop down.
Not only can you find single topics but, there are full curriculums in several

several subjects

. You also have unit studies and lapbooks. Material is still being added to the site.
From the

menu you can search by subject, grade, topic, months, organization, and by miscellaneous topics. There is also a search bar to save time. There is more than just downloading printables here. You can summit your printables to the site to share.
Once you find what you are looking for you click on it and a PDF opens that you can save or print it. There is also a forum to chat with other members and a blog.
Let's talk about the plethora of material!
Curriculum "Treasures" from the Past
Lapbooking and Notebooking Pages
It's very easy to navigate around The Christian Homeschool Hub site.
How did I use The Christian Homeschool Hub in my homeschool?
I don't even know where to start as we have utilized so many resources from The Christian Homeschool Hub. I spent the first few days exploring the site and taking notes of the many things that I thought would work in our homeschool.
One portion that grabbed my attention was the Forms for planning and Record Keeping for this coming school year. They have a nice form for keeping attendance. I sat down with the kids and we set up a Reading Log of the books they are required to read this year.

I set goals for the kids this coming year and wrote out a schedule. I would love it if these particular forms could be edible so I could type in the information.
Another one that I liked was a Character Trait unit that covers 40 week unit with an impressive 40 character traits to go over. I didn't have the suggested book but, it's on my, to do list in a few weeks.
I did focus on the Astronomy/Space Science since we are studying that topic this year. I had my kids do some of the planet coloring page and the solar system info graphic. I printed out the moon phases cards.

M

y 10 year old son start reading the Guide to the Stars. Which this is an impressive 161 pages.

He likes the material in it and hasn't complained about reading it.
My 13 year old daughter with learning disabilities is obsessed with insects. Bug has loved the Entomology section and is quite advanced in that particular subject. She has been working in the High school Science in the Entomology. She is having me read to her the Butterflies and Moths which is 360 pages. Her favorite resource is the "Let's Color Some Insects Coloring Book" that has 27 pages to color. I have a feeling I will be print

ing this out more than once.
Little man has been working on fractions and on multiplication. I felt he needed a refresher before we are in full swing of the school year. I just printed out a few pages

and not the whole unit.
I love the spelling units and they have been a good fit for my son. This has been an area that I have struggled finding so

mething for him

. He likes basic spelling with no whistles. I hate coming up with my own words for spelling. So this was super easy to print out

!
I know I am missing something as we have really utilized so much with the CHSH Download Club.
This is a good value and has so many amazing resources. I would recommend this website. It has something for everyone from full curriculum to some supplemental resources.
Don't forget to see what others on the TOS Crew have been doing with the CHSH Download Club.