09 November 2017
Thursday, November 09, 2017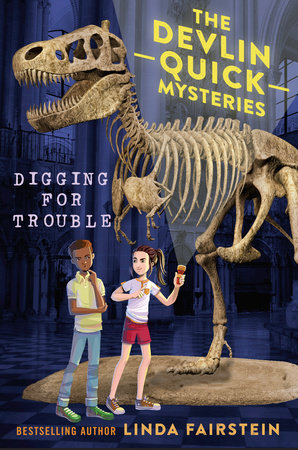 Twelve-year-old supersleuth Devlin Quick heads to Montana to dig out dinosaur bones, but instead she uncovers a mystery in this second book in the thrilling series from New York Times bestselling author Linda Fairstein

After successfully apprehending a map thief at the beginning of summer, Dev is going to spend the second half of her summer vacation in Montana with her best friend, Katie, exploring the outdoors and NOT getting into trouble. But after participating in a dinosaur dig, Katie and Dev suspect that someone bad is in the Badlands when Katie's found fossils are switched out for old rocks. The good news? With Mom back in New York, no one can stop Devlin from investigating! But the fossil thief isn't the only danger here, as snakes, scorpions, and bears abound, making Montana a treacherous place for finding answers.

And when the mystery takes Dev and Katie back to Manhattan—to the Museum of Natural History—the case gets even more complicated, even with Dev's friend Booker there to help. Dev has to use her brains, brawn, and yes, okay, the lessons learned from her police commissioner mother if she wants to dig up the truth once and for all. This is the perfect read for fans of Nancy Drew and Theodore Boone.
Linda Fairstein
is best known as the internationally bestselling author of the Alex Cooper mystery series for adults, which have been translated into more than a dozen languages. She first dreamed of writing mysteries in the sixth grade. A voracious reader of Nancy Drew, Linda penned her first caper for kids, The Secret of Apple Tree Farm at the age of 11. Last fall, Fairstein returned to her childhood passion with the publication of Into the Lion's Den. Prior to writing, Linda worked at the Manhattan District Attorney's office as the head of the Special Victims Unit from 1976 to 2002. She lives in Manhattan, Martha's Vineyard, and Big Timber, Montana.
This is the first time I have read any of Linda Fairstein books. This is the second book in this series in which I didn't read the first book in this series. This was easily read as a standalone book.
This book is for 8-12 year olds and some older kids may enjoy this story. This is a hardback chapter book with 336 pages. It is also available as an eBook and an audio book. This is a mystery-investigation story. It's intriguing and keeps you turning the pages to see what is going to happen next.
The girls are on an active fossil dig in Montana's Badlands and run into to some suspicious actives. Their curiosity takes over as they start looking into all the clues that get them sleuthing around and trying to stay out of trouble. Back home in Manhattan the girls continue their research to confirm their suspensions are correct. I'm not going to give you any spoilers so you will have to read it for yourself.
What I can tell you is that the characters are intriguing and feel like the kids down the street. The author does a wonderful job making them interesting and realistic. I couldn't tell you who was my favorite character is but, the girls Kate and Devlin are fun.
Then there is the plot. Very captivating- I mean even at my age I still love a grand adventure and digging for dinosaurs bones is one of those adventures. Linda does a good job with the places as I can imagine the scene of digging for fossils. Great job!
Just a heads up on a few issues from a Biblical World view: This does use the millions of years throughout pertaining to dinosaurs. My family believes differently and more from the Biblical view of this theory. I'm okay with it as I've taught my kids about the differences for them to know. One of the girls does have a crush on one of the boys and other minor pre-teen emotions. It's nothing drastic within the story. I know some families would not be okay with this with their kids.
Overall, this is a wonderful read for this age range. It's like a modern day Nancy Drew story that I read as a kid.
I received a free copy of this product from

Penguin Random House

in exchange for my honest review. I was not required to write a positive review nor was I compensated in any other way. All opinions I have expressed are my own or those of my family. I am disclosing this information accordance with the FTC Regulations