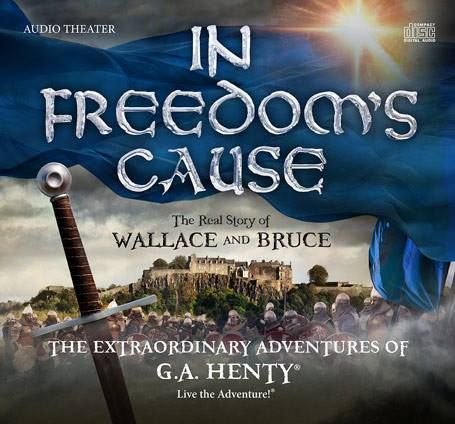 The physical CD copy of In Freedom's Cause is a two CD set in a gorgeous case with the prayer of William Wallace from Psalms 23. Freedom's Cause is 2 1/2 hours abridged story by G.A. Henty.
In Freedom's Cause has a top notch cast for this audio production such as Billy Boyd from Lord of the Rings, Skandar Keynes from Chronicles of Narnia, Joanne Froggatt from Downtown Abby, James Cosmo from Braveheart, and many other great actors for this amazing audio book productions. If you want to teach your kids the true meaning of valor, determination, courage, and enduring faith in God, then you will love In Freedom's Cause to give your children a true look at Christian character that stands strong in trials and tribulation. You can have instant access by downloading it or you can order the CD.
Most are familiar with the story of William Wallace from the popular film, "Brave Heart" which is not a completely accurate story of William Wallace and Robert the Bruce.
About the Story:
This story takes place around the later 12th and early 13th century in Scotland. Scotland is being oppressed by the tyrant King of England Edward Longshanks. Sir William Wallace is known as heading the fight of freedom of Scotland against England's oppression. William Wallace refused to submit to English rule. Not only are you going to learn about Sir William Wallace but also Robert the Bruce and his journey as to ascend to the throne of Scotland. I don't want to give away too much of the plot just in case you aren't familiar with the history of these two men.
This study guide is a 49 page PDF. This is a colorful PDF with many appropriate pictures throughout of the history of Scotland. You can use this guide for younger children to help them understand the story. For the older students it can be used for writing assignments.
The guide is well thought out with some comprehension questions. The study guide is broken down in three sections.
Listening Well: this section lets you see that your child understands the story. Some of the questions are easy and other ones are harder. All the answers are easy to locate.
Thinking Further:You can take up the story another notch in this section. You will be asking thought provoking questions that make your child think and put their thoughts in their own words. Such as trying to figure out the character's intentions and what they think the characters are feeling or thinking.
Defining Words: those tough new vocabulary words and finding out the meaning. A valuable skill of looking of vocabulary words in the dictionary.
There is a brief section on the history of Scotland towards the end.
Included is a Bible study that covers two parts. Bible Study I: I Will Fear No Evil. It discussed the topic of how Godly men facing death through persecution. There are several scripture references to dig deeper in God's word. Bible Study II: Vengeance and Forgiveness goes into how to deal with the struggles of justice, mercy, vengeance, and forgiveness.
This is a larger version of the prayer that you can print out. It's the same prayer that is in the CD case. We read this before we discussed the study guide.
After our first experience with Heirloom Audio Production a year ago my family was pretty excited to begin this story. The day In Freedom's Cause came in the mail we were walking out the door for an appointment when the mailman came. My son had it opened and into the CD player as soon as the key hit the ignition in the van. We finished listening to the rest of the audio book the first time fairly quickly.
Then the next week we worked on the In Freedom's Cause Study Guide. I did the study guide orally with the kids and we discussed the topics. One of the discussions that the kids enjoyed was, "Gerald and the Goat Woo". Then of course, my son tried to mimic the Goat Woo instrument for a week or so! That part wasn't so fun for me or the rest of the family. Boys will be boys. We also had a serious discussions from, "In London" about William Wallace and his courage and faith in God in his final breaths. We enjoyed digging into and going deeper in the story with the study guide.
We also did an unexpected trip to Colorado. We listened to the first CD on our way to Colorado and the Second CD on the way back to Kansas. Daddy and Grandma listened to In Freedom's Cause with us.
Our final thoughts and comments
Daddy:
"You better give them a good review." I will interpret what that means. In other words he is saying, "That was good and well put together". He was impressed." I've been married over 20 years so I know my beloved pretty good.
Grandma:
"I'm glad that we finished the story before we got home. I was hoping that I would be able to listen to the whole story." Grandma doesn't like to read books. She told me that it was a very good story. She liked the background sounds that she could imagine the story in her head.
Bug:
"Mommy I really liked this story a whole lot."
Little Man:
"Freedom for Scotland"! Then he ran off looking for his sword. The imagination of a 9 year old boy "In Freedom's Cause" will give him many hours of action packed adventures as you can tell from the picture of him.
Mom:
"In Freedom's Cause is an amazing production that had not only me but, my family captivated." "I love history and then add some Godly character into the mix and it's a winner for me. The realistic action packed adventure is completely amazing."
I loved all the components of In Freedom's Cause. Not only is it a quality audio drama that is so professionally put together. The Study Guide is well thought out and can be used for all ages.
The good news is that there is more to come from Heirloom Audio Production! In 2015 they are planning on two releases. One of the first two is, "With Lee in Virginia", a tale of the American Civil War. I can't wait until it is available and I'm anticipating and already excited about it!
I would recommend this amazing historical story without a second thought. I truly believe that you won't be disappointed. Stop by and see what the other Schoolhouse Crew is saying also about, In Freedom's Cause.