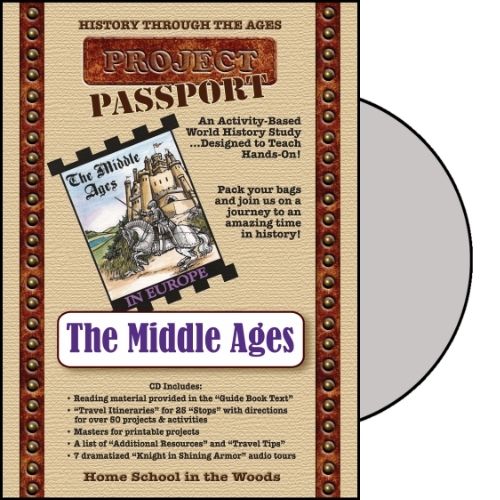 This is my first time doing Home School in the Woods other than using their timeline figures. I received a digital download for the Project Passport World History Study: The Middle Ages unit. This includes printables, audio files, photos of the finished projects, and teaching instructions to use this unit study.
Setting up the files on my computer was extremely easily the first time around. Then my computer crashed a few days later. I wasn't able to get the information off my hard drive for over a week and I needed to get my lessons prepared sooner. I was able to download it again in the classroom with some help from the helpful advice from Home School in the Woods staff. The classroom is a Windows 8 and my kid's computer. I needed some help due to my learning curb with that operating system. Customer Service was extremely helpful and friendly.
Once everything was once again downloaded I was able to get to work immediately as the menu is organized nicely by lessons.
The unit study consists of 25 stops. A stop is basically a lesson. The stops cover different parts of the Middle Ages. The stops are laid out to learn about all kinds of different aspects of the culture from Knights and Chivalry, the Vikings, Education, the Crusades, to everyday life. There is a nice variety of topics in this unit study.
Stops - 1-3 Laying the Foundation
Stops - 4-7 Everyday Life
Stop - 10 Science and Invention
Stop - 13 Medicine and Disease
Stop - 17-18 The Crusades
Stop - 19 Knights and Chivalry
Stops - 22-24 Battles, Wars, and Conflicts
There is a timeline to put together, lapbook projects, a notebook, and several craft projects to do. The audio lessons are awesome and my family really enjoyed them.
Each stop is a day or two for the most part. Some stops are a bit longer. This was created for a 8 to 12 week long unit study. We took much longer on the stops due to it being summer vacation.
You will need a printer and some paper and cardstock for this. A few other items depending on which stop you are doing. Most the items are inexpensive or an item you can find around your house. You may also want a notebook if you are printed it all out.
This is not an open and go curriculum as you will need to plan and prepare items in each stop.
How did I use it in my Homeschool?
With it being summer I picked and choose a few stops in no particular order. I choose the stop based on my children and what I thought they would enjoy the most. I used this with my 9 year old son and 12 year old daughter
First we did the luggage and passport book before we got into any of the topics. I printed out only the stops that I wanted to do. I read the material as a read out loud to the kids.
After we did the reading we work on the timeline and some of the stops had mapping activities. There are several recipes in the unit study also.
This is my favorite part of teaching my kids history is making history come alive for them with some hands on learning. This has been a lot of fun for both of my kids.
There is a lot of information for teaching history and its well thought out. You could do this as a complete unit study alone or add it to an existed curriculum to add some hands on activities to it. There is a nice variety of book suggestions to add to it also.
See what the other Crew did with their adventure as they each had different time frames in history.