Bug has been reviewing some much needed skills this summer with jollyliteracy.com (just2ducks LLC) and there Jolly Phonics and Jolly Grammar. We received a physical set of both.
Jolly Phonics and Jolly Grammar including:
Jolly Phonics Teacher's Book in print letters
Jolly Phonics Student Book 1, 2 and 3
Jolly Songs in print letters
Jolly Grammar 1 Teacher's Book in print letters
Jolly Grammar 1 Student Book
We also received a My Personal Dictionary with it.
Jolly Phonics is a multi-sensory comprehensive program that has been used with much success in the UK and Australia.
It uses a synthetic phonics approach to building a foundation for reading and writing. Your student will be exposed to stories, hand actions that represent letter sounds, songs, games, and a lot of other hands on game play.
Five basic skills are taught:
*Learning 7 groups of 6 sounds which is 42 alphabet and diagraph sounds.
*Learn how to write the letters correctly using the proper formation.
*Blending letter sounds to help blend the sounds together to be able to read.
*Identifying

sounds in words (segmenting).
*Tricky words with irregular spellings. They are taught separately.
The sounds are taught in a specific order. This helps children to begin building words as early as possible.
5. z w ng v oo oo
6. y x ch sh th th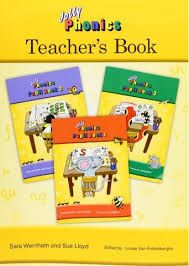 Jolly Phonics Teacher's Book in print letters
This is a full colored illustrated paperback book with 184 pages. The first section explains the program and the teaching method. It's clear and easy to comprehend how to teach the program. The book is color coded to go with the corresponding Student Book. Each section has a picture of the assigned page in the student book. You are given step by step instructions on how to teach using the Jolly Phonics method.
Jolly Phonics Student Book 1, 2 and 3
All three books are full colored with lots of fun illustrations on every page. They are all paperback books with 48 pages. Lots of activities from coloring, matching, tracing letters, and fill in the blank.
Student Book 1
Teaches

the sounds in the alphabet along with the diagraph sounds. In the corner there is a box that teaches the action for the sound that needs to be learned.
This will combine the knowledge that was gleaned from the previous book and you will start to practice more reading skills. Your student will be introduced to formatting capital letters. They are introduced to some tricky words and start some basic sentence structures. Lots of guided writing exercises are included.
Your student will be introduced to alternative spelling patterns, and more of those pesky tricky words. They will so some independent writing exercises.
All three of the Student Books are for a complete year of curriculum.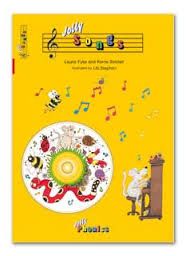 Jolly Songs in print letters
This is paperback book with 24 pages in full colored and illustrated. The book comes with a song CD. There is a song to go with each of the 42 letter sounds in the program. All the songs are based off a familiar tune. In the back of the book are some games and activities go help with the learning of the letter sounds. There is an index in the back to help you located the page.
Jolly Grammar portion of the program.
Jolly Grammar 1 Teacher's Book in print letters
This is a paperback book with 104 pages. Full color and illustrated pages. It has very concise information to help you teach your student grammar. It is in the same format as the phonics book. The book has a comprehensive introduction section that will explain how to teach the program along with some ideas to help you work with your student. It goes over all the parts of speech and they are color coded: nouns-black, verbs-red, and ect…
The course is intended for 36 weeks of lesson with tow lessons each week. Each lesson is around 1 hour.
Jolly Grammar 1 Student Book
This is also a paperback book with 80 pages. The book is very colorful with fun illustrations.
Jolly Grammar 1 covers alternative spelling words, short and long vowels, compound words, plural endings, alphabetical order, parts of speech, verb tenses, antonyms and synonyms, sentence structures, and so much more. The back of the workbook has a space for spelling word test.
This is a mini paperback book that has 90 high frequency sight words in alphabetical order, 83 high frequency nouns, 11 color words, and number words 1-12.
How did I use
Jolly Phonics and Jolly Grammar in my homeschool?
I used this for my almost 14 year old daughter with severe learning disabilities. She is always regressing in her skills and needs lots of practice and going over concepts every so often.
I spent the first week going over the teachers books and trying to decide where I need to start with her in the Jolly Phonics Student Book.
I did a brief oral overview with her of Student Book 1 with teaching her the actions. I didn't have her do the physical portion as it would have been way too easy for her. We then started in the Student Book 2 and worked on it 3 days a week. The lessons are fairly shorts and she was pleased with that. It was easy for her to recall the information and fairly simple for her but, in her situation that is a good thing to build up her confidence. It's the small details that she forgets and it affects her phonemic skills and reading.
She thought that the actions where fun. I hope that doing the actions will have a lasting impression in her mind so we don't have to keep going over these skills so often. We listened to the songs on the CD. Overall, she was okay with them in small portions. Regardless of her learning level I still have a teenager!
I used the Can Do Cubes with the courses to help teach her the skills. I will expand on those later this week.
Since my daughter caught on fairly easy with her phonics. I decided to work on Jolly Grammar 1 with her. I broke up 1 lesson to do in 2 days. She knows we are on summer schedule and I didn't want her to shut down on me.
The only thing I found difficult was navigating the website. I

liked

the print catalog. There is so many components that you can use with this program other than the items I talked ab

out.
This is been a fun curriculum for my daughter. I loved that it was easy to do. Both of the teacher books are easy to understand. There is no planning on my end.
Don't just take my word as there are several other members of the TOS Crew that have been using jollyliteracy.com.