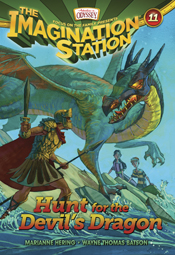 Hunt for the Devil's Dragon
Imagination Station Books #11
If you're brave, follow cousins Beth and Patrick to Libya in the 13th century. The town of Silene is being terrorized by a vicious animal that is eating livestock. The townspeople believe it's a dragon sent by the devil. In order to appease the beast, the people believe they must offer a human sacrifice—a young girl named Sabra. When Beth tries to help Sabra escape, she too is tied up as an offering for the dragon. Meanwhile, Patrick and a new friend named Hazi join Georgius, a Roman knight who is serving in Africa to keep peace. Georgius decides to find the dragon and kill it. Georgius's plans go awry when Beth and Sabra beg him not to kill the dragon. The girls know the true secret of Silene—the dragon isn't its worst enemy.
I love that this series is written from a Christian perspective with good morals. I don't have to worry what is in the book. Now that my son is reading books on his free time now I really appreciate this series.
My son loves dragons and history. The picture on the cover caught his attention so fast that I had to promise him I would read it quickly for my review so he could read it. I love the history in the book. The chapters are short, the font is large, illustrations throughout the pages, and it's always an adventure with the cousins.
The only thing I don't like about this series is that I don't have them all!
I even enjoy reading them as an adult.
Tyndale House Publishers has provided me with a complimentary copy of this book.
In no way was I asked to give a positive review. The opinions I have expressed are my own.