I love watching my kids create masterpieces with art. I just don't like the clean up that is associated with making those masterpieces. The Pencil Grip, Inc. has solved my clean up dilemma. I was excited to have my kids use Thin Stix 6pk of Classic Colors. We've loved using all their products in the past. My kids wanted something thinner so they could do some more detailed art projects.
Thin Stix 6pk of Classic Colors are

solid tempera paint that comes in a plastic tube like a glue stick container. The paint sticks can be adjusted in height by twisting them up and down. The lids snap on easy to seal the container. It's also a non-toxic paint that dries in 90 seconds.
The best part is that the clean-up is easy! You don't have to worry about them spilling the dirty paint water or dropping brushes on the floor. I don't have to do the clean-up for them as my kids just snap the lid back on them and put them away quickly. No dripping masterpieces as they are bringing them across the room to show me what they created. I love the no mess kids art projects.
Kwik Stix can be used on many different materials from like paper, poster board, cardboard, wood, and on a canvas! Ages 3+ I even like using them when I am doing art with my kids.
The paint texture is extremely smooth when you apply it to your surface while using them. The texture reminds me of lipstick but, it's firmer in the texture. The colors are bright, vibrant, bold, and vivid. No smears or clumps when you are using them. The colors don't bleed into one another. You can touch the painted area and not worry about it smearing. I also like that the colors don't end up on your hands by accident.
My kids found out that you can blend the colors last time we received them. All you have to do is take your finger and go over the colors. However, you do have to do the blending immediately. The blending isn't the easies but, we found out that the thicker you apply the color the easier they blend. My kids aren't too fond of trying to blend the colors as it does take some planning and trials and errors.
What makes the Thin Stix unique from the orginal Kwik Stix? The diameter is much smaller for you to work on more detailed art projects. The caps also have a clip on for the cap covers. I would say the diameter is somewhere between a thin marker and an average size marker.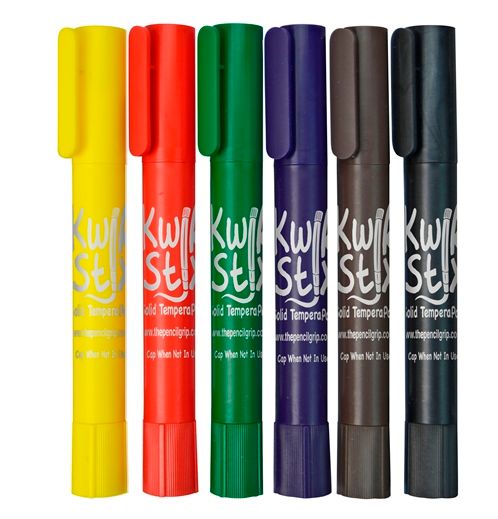 Thin Stix 6pk has six classic colors: red, blue, yellow, green, brown, and black.
How did I use Thin Stix 6pk of Classic Colors?
My kids ages 11 and 14 have been using them for all sorts of things. We have made thank you cards, get well cards, and sympathy cards. My kids have done a few of our art programs using Thin Stix rather than the suggested median. This was nice and easy for me. The projects looked extremely nice. There are some days my kids don't actually want to work with the mess of some art medians either. It can be time consuming getting ever thing prepared and then the clean up.
The best part is using them just for fun. This last weekend I had a house full of kids from several families. It was getting stressful with so many kids in the house. Let's just say it has been sad week for some of the kids as they lost their mom. I pulled out all the Kwik Stix and the Thin Stix and let the kids create to their hearts content. I wasn't stressed out with multiply kids doing art on my table. Trust me this is not something I would of done with a house full of kids from 3-14 with any other median. The kids laughed and smiled while creating masterpieces. For some of the kids it was probably the first time they have smiled all week long.
One of the mom's who is a talented artist used these for the very first time. She was making word art. You take certain words and create pictures from the words. She played around with the Thin Stix with blended. She didn't have much success blending but, she had fun using them regardless. She brought on a few laughs and smiles with her word art which was needed. Clean up was just putting the lids on, putting them in the boxes, and separating the art to take home. No messes on my table, walls, floors, and I didn't have to clean up hands or faces!
If you haven't ever tried these amazing tempera paints I would have to say that you are missing some amazing creativity hanging from your refrigerator.
I loved the Thin Stix and the ability to get more detailed in our crafts. My kids are wondering if they can go even thinner to work in some of the details of the adult coloring books. That would be delightful.
Other members of the Homeschool Review Crew are making some masterpieces in their homes so stop by and see what other possibilities are out there to create.